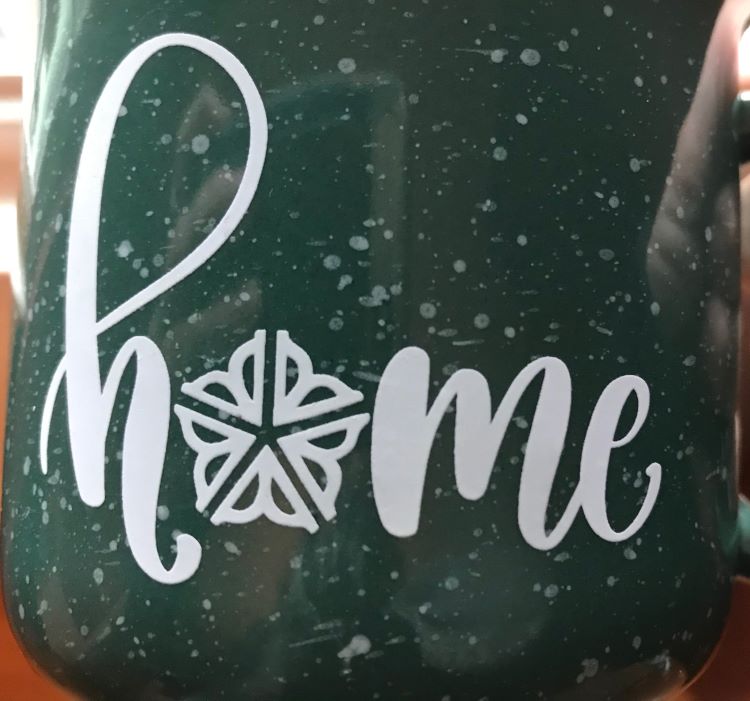 One of my favorite mugs with the Rochester logo
Yesterday was an uncommon day here in Rochester. We broke a record high and it was such a treat I got outside for any reason.
Living here means dealing with four seasons and all that entails. Summer is short and spectacular. Spring and fall bring colors you might not believe are created by Mother Nature. And then there is winter. It is my least favorite season. I hate being cold. I hate taking extra time to bundle up to go outside and then feeling so restricted by all the layers I worry I'll tip over like the little boy in A Christmas Story and not be able to get up. Just try to put your seat belt on when you cannot reach across your body. But then every year we seem to get a day here and there that reminds us we are headed for better weather. We shed our layers, go walking or running, eat outside, and revel in the sun and warmth. A one day vacation to keep us hopeful.
Having said all that, I can tell you I have tried to change my attitude about winter over the last few years. There is a saying I heard that I have tried to take to heart: If you do not embrace the snow and cold, you will be unhappy and have the same amount of snow and cold. So on snowy days, I bundle up, put on snow boots and go for a walk (a workout to make me sweat and kick my butt, literally). There is something incredibly beautiful in seeing snow covered trees and yards. On sunny days the snow sparkles like it is sprinkled with diamonds.
This is an attitude that can translate to so many things. It is hard for me to listen to people who insist on complaining about anything they do not like or agree with especially when it is something they cannot change. A major road near us recently changed from four lanes to two. Was it nicer to be able to pass the inevitable driver going super slow? Of course, however, the decision was made and now I take a deep breath and try to be patient. The road will not go back to four lanes so why would I waste my energy complaining about the change? Another change occurred with our local paper when it cut back on its print version but offered free access to USA Today, but only online. I am amazed at how many people still read the print version and are over-the-top irritated at the thought of reading it online. I think I am witnessing how my parents must have felt as new inventions and conveniences changed the way we lived our daily lives. We can lament the changes and complain about how things used to be, but that will not bring back how it was, so again, why waste the energy? (Okay, a lot of complaints brought back classic coke, but that was an exception!)
My message today is use your energy to change what you can. We all know the serenity prayer, but how many of us actually accept that which we cannot change? The trick is to identify what you can control and work to make positive progress in those areas. The snow is going to come in Rochester. The only thing I can control is my attitude towards it. I would rather embrace life with a smile than complain about the unchangeable or inevitable progress.
What about you?
I hope everyone enjoyed the Super Bowl this weekend. It was pretty boring. Well, I hope you enjoyed the day. I was so excited to make vegan nachos, though, that I didn't care about the game at all! I made up a batch of southwestern cashew cream sauce and smoky black beans and put out a bunch of nacho toppings so we could make our own creations. It was a delicious dinner, especially when paired with a margarita!
Vegan DIY Nachos
Southwest Cashew Cream Ingredients:
1 cup raw cashews, soaked for 30-60 minutes in boiling water
1/4-1/3 cup non-dairy milk
1/2 tablespoon southwest seasoning (or your favorite taco seasoning)
1/2 teaspoon smoked paprika
1/4 cup nutritional yeast
salt to taste
Smoky Black Beans Ingredients:
1 can black beans, drained and rinsed
1 teaspoon oil
1 small onion, diced
2 cloves garlic, minced
1/2 tablespoon southwest seasoning (or your favorite taco seasoning)
1/2 teaspoon smoked paprika
salt to taste
Bag of nacho chips
Favorite nacho toppings:
guacamole
diced tomatoes and/or peppers
salsa
vegan sour cream
onions
hot sauce
Directions:
1. Combine all ingredients for cashew cream in a high speed blender (I use a magic bullet). Blend until smooth. Add more milk if too thick. Taste and add extra spices or nutritional yeast if desired. Pour into small sauce pan and heat on stove on low.
2. Heat oil in medium sauce pan. Add onions and garlic and cook until soft and translucent, 5-10 minutes. Add beans and seasonings. Add a 1/4 cup of water and mash everything with a potato masher or back of a fork until chunky (you want some beans to stay whole). Once it starts bubbling, turn down heat and taste. Add more spices if desired.
3. Pour chips into large bowl. Place all toppings, including sauce and beans, in dishes with spoons for everyone to make their own creation.
4. Enjoy!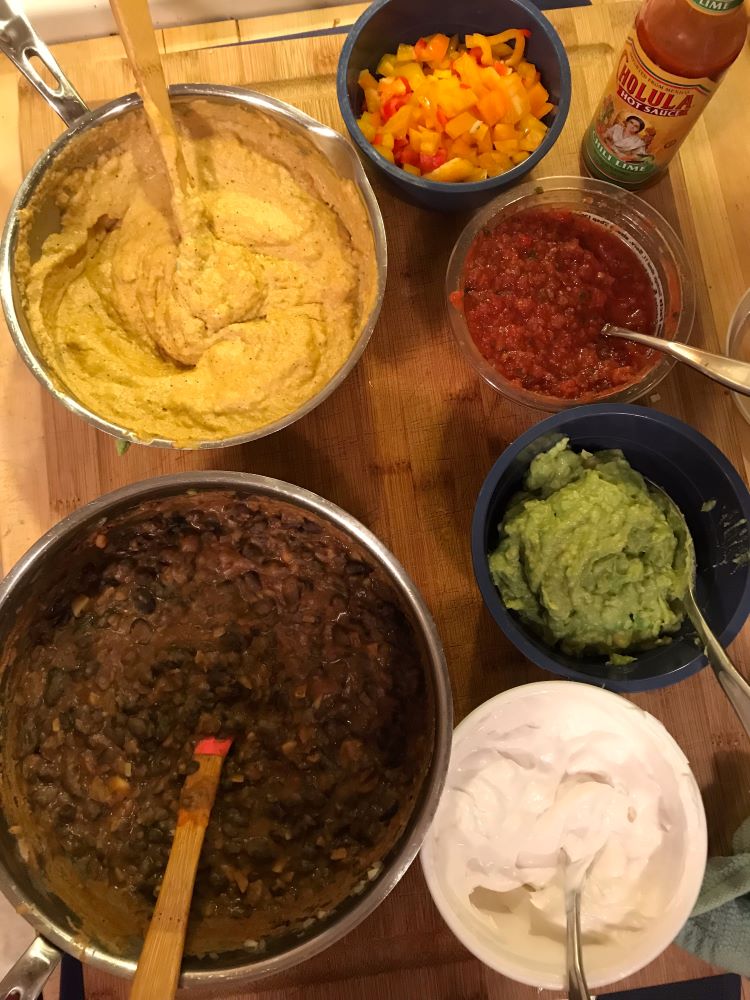 My DIY nacho fixings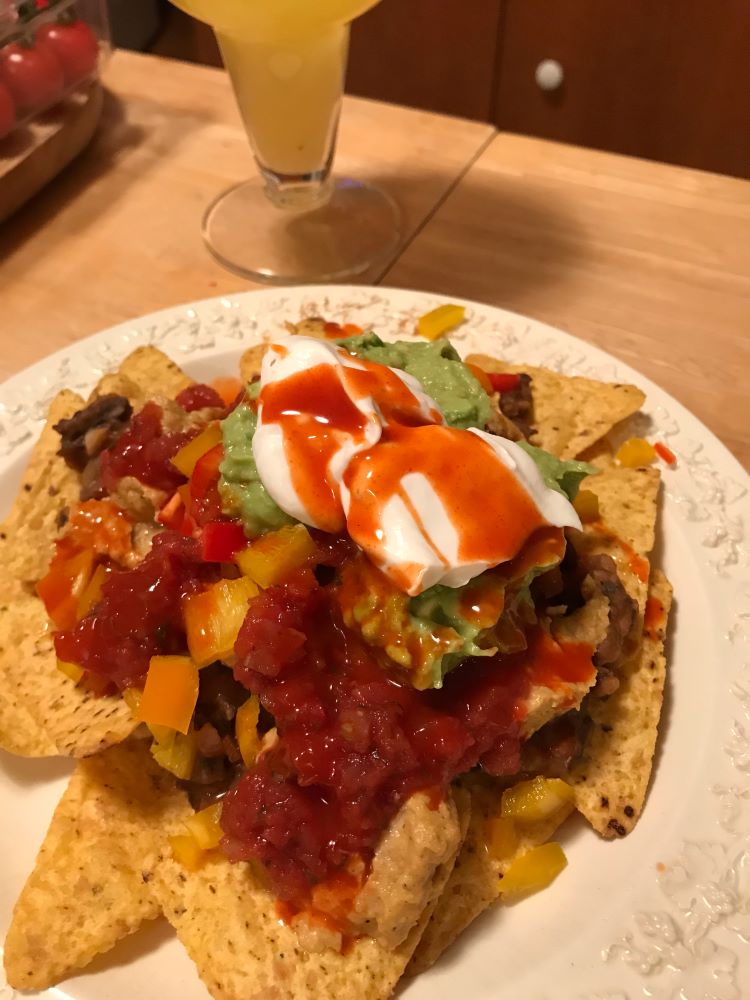 My creation, complete with margarita!