This week I am going to write my third annual post of book recommendations (my other posts are here and here). I set a reading challenge each January, with a goal of reading at least one book per week. Last year I read 74 books so this year I am setting my target at 65 books. I am on my third book of 2019 so I am hoping to achieve that goal!
My favorite books read in 2018, in no particular order:
Major Pettigrew's Last Stand, Helen Simonson
The Tea Girl of Hummingbird Lane, Lisa See
Eleanor Oliphant is Completely Fine, Gail Honeyman
The Story of Arthur Truluv, Elizabeth Berg
This is How it Always Is, Laurie Frankel
We Were the Lucky Ones, Georgia Hunter
The Giant's House, Elizabeth McCracken
All We Ever Wanted, Emily Griffin
Evergreen Tidings from the Baumgartner's, Gretchen Anthony
An American Marriage, Tayari Jones
Where the Crawdads Sing, Delia Owens
Books I enjoyed, in no particular order:
Miller's Valley, Anna Quindlan
The Clockmaker's Daughter, Kate Morton
Manhattan Beach, Jennifer Egan
Lillian Boxfish Takes a Walk, Kathleen Rooney
The Gilded Years, Karin Tanabe
The Great Alone, Kristen Hannah
In the Midst of Winter, Isabel Allende
The Flight Attendant, Chris Bohjalian
Summer Wives, Beatriz Williams
Books I found odd but still enjoyed:
The 7 1/2 Deaths of Evelyn Hardcastle, Stuart Turton
The Enchanted Life of Adam Hope, Rhonda Riley
Books I would have been happy not to read:
Atomic City Girls, Janet Beard
If you have a favorite, please let us know in the comment section below!
After spending so much time reading, I like a recipe I can make quickly, or that doesn't require a lot of hands-on time. This week's dinner is perfect!
Baked Sweet Potatoes with Balsamic Maple Bacon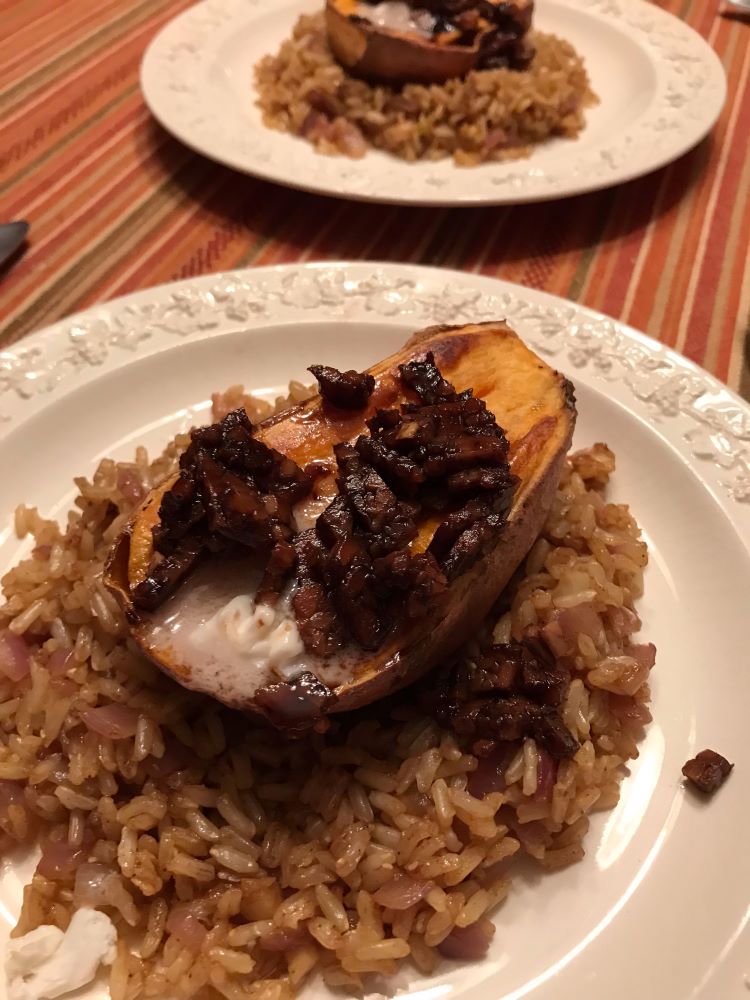 Ingredients:
1 large sweet potato, washed and halved
Olive oil to brush on potato
1/2 cup brown rice
1/4 cup balsamic vinegar
1 tablespoon maple syrup
dash of salt
3 slices vegetarian bacon, diced
2 pats vegan butter
Directions:
Preheat toaster oven to 425. Brush potato with olive oil and place on a baking pan, cut side down. Place in oven and bake 30-40 minutes, flipping potato halfway through, until a knife tip slides into potato easily.

Bring a large pot of water to a boil and salt. Pour in rice and cook until tender, 20-30 minutes. Drain and return to pot to keep warm.

Heat a small sauté pan over medium high heat. Whisk in balsamic, syrup and salt. Bring to a boil, reduce heat to simmer and whisk frequently, until liquid is reduced and thick, about 5 minutes. Remove from heat and stir in bacon.

To serve, place a serving of rice on plate, top with potato half. Cut some slices into potato and put a pat of butter on each. Top with balsamic maple bacon.

Enjoy!