I love to read. Each year I set a goal for myself to read at least one book per week. I keep track both on Goodreads and a handwritten journal. If I make it to 52 books by the end of the year I am pleased. In 2016 I read 65! This year I upped my goal to 55.
I realize reading this many books is not realistic for everyone, but I do encourage you to read as often as you can. Books provide a way to escape the upsetting headlines or negative posts on social media (and this week has been particularly distressing). Books are also a great way to step away from all the screens we get glued to whether it is a phone, iPad or television (although I do read a lot on my Nook). Books also engage our minds, which is important in helping to prevent or delay the onset of mental decline. I belong to three book clubs which keeps me reading and it also forces me to read books that I might not otherwise choose. I have never read non-fiction on a regular basis but due to book club choices I am now more knowledgeable about Abraham Lincoln, Japanese prison camps, the 1936 Olympics and Benjamin Franklin. I love historical fiction and truly appreciate good writing. I decided to give you a list of books that I have really enjoyed in the hope that you might find a new favorite, even if it is the only book you read this year!
Teri's Take Terrific books (in no particular order):
A Man Called Ove by Frederik Backman
All the Light We Cannot See by Anthony Doerr
Kite Runner by Khaled Hosseini
The Storied Life of AJ Fikry by Gabrielle Zevin
A Prayer for Owen Meany by John Irving
The Marriage of Opposites by Alice Hoffman
The Rosie Project by Graeme Simsion
Teri's Take Great Books (in no particular order):
Five Quarters of the Orange by Joanne Harris
A Constellation of Vital Phenomena by Anthony Marra
My Grandmother Asked Me to Tell You She's Sorry by Frederik Backman
The Night Circus by Erin Morgenstern
Maya's Notebook by Isabel Allende
What Alice Forgot by Liane Moriarty
A Certain Age by Beatriz Williams
Teri's Take Really Good books (in no particular order):
Water for Elephants by Sara Gruen
The Elegance of the Hedgehog by Muriel Barberry
A Tree Grows in Brooklyn by Betty Smith
Billy Lynn's Long Halftime Walk by Ben Fountain
The Girl who Fell from the Sky by Heidi Durrow
The Time Traveler's Wife by Audrey Niffenegger
The Story of Edgar Sawtelle by David Wroblewski
I also like to read what I call junk food, quick, easy to read mysteries that cleanse the palette, before diving into a weightier book. Harlan Coben, Janet Evanovich (the Stephanie Plum series) and Taylor Stevens (the Vanessa Michael Munroe series) are authors I often pick up for this purpose.
Right now I am reading A Gentleman in Moscow by Amor Towles and The Nest by Cynthia D'Aprix Sweeney (yes, two books at once). I love them both so far!
The Super Bowl is this weekend! This week's recipe is the perfect dip to serve at a party (I made it for the last book club I hosted). It is easy and everyone will want the recipe.
Smoky Onion Dip
adapted from Epicurious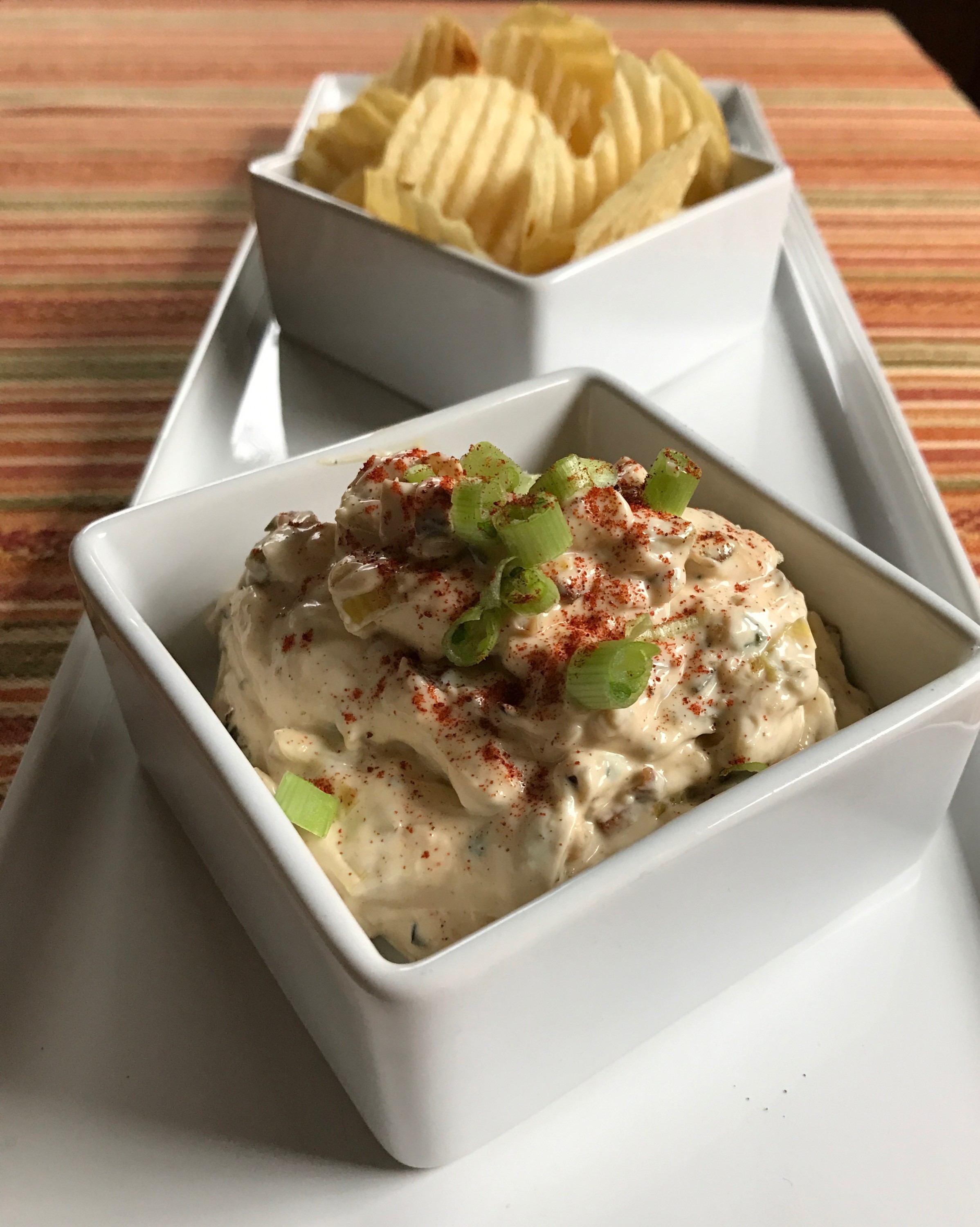 Ingredients:
1 medium shallot, thinly sliced
1 medium leek, thinly sliced
2 medium scallions, white and light green parts, thinly sliced
1 tablespoon olive oil
1/2 cup vegenaise (or mayonnaise)
1/2 cup plain greek yogurt
1/2 teaspoon garlic powder (or more if you love garlic)
1/2 teaspoon onion powder
1/4 teaspoon smoked paprika
1 teaspoon fresh thyme, chopped (or scant 1/2 teaspoon dried thyme)
1 teaspoon fresh lemon juice
Optional toppings:
chopped scallions
sprinkle of smoked paprika
sprinkle of thyme
Directions:
Preheat broiler. Toss sliced shallots, leeks and scallions with olive oil and spread out on a cookie sheet. Broil until they start to blacken, 5-7 minutes, stirring at least once. Watch closely! They can go from blackened to burnt in seconds! Remove from oven and allow to cool as you mix rest of ingredients.

In a medium bowl mix remaining ingredients. If it seems too thick add a splash or two of milk or more lemon juice. Add onion mixture and stir well. Chill for at least one hour.

Serve with optional toppings and vegetables or chips. Enjoy!