A few weeks ago my father turned 80 and we took him out to celebrate. He wanted to go to Longhorn Steak House so that is where we went. Obviously not a vegetarian's first choice for dinner but when you turn 80 you get to pick where to celebrate. Actually, on your birthday you should always get to pick!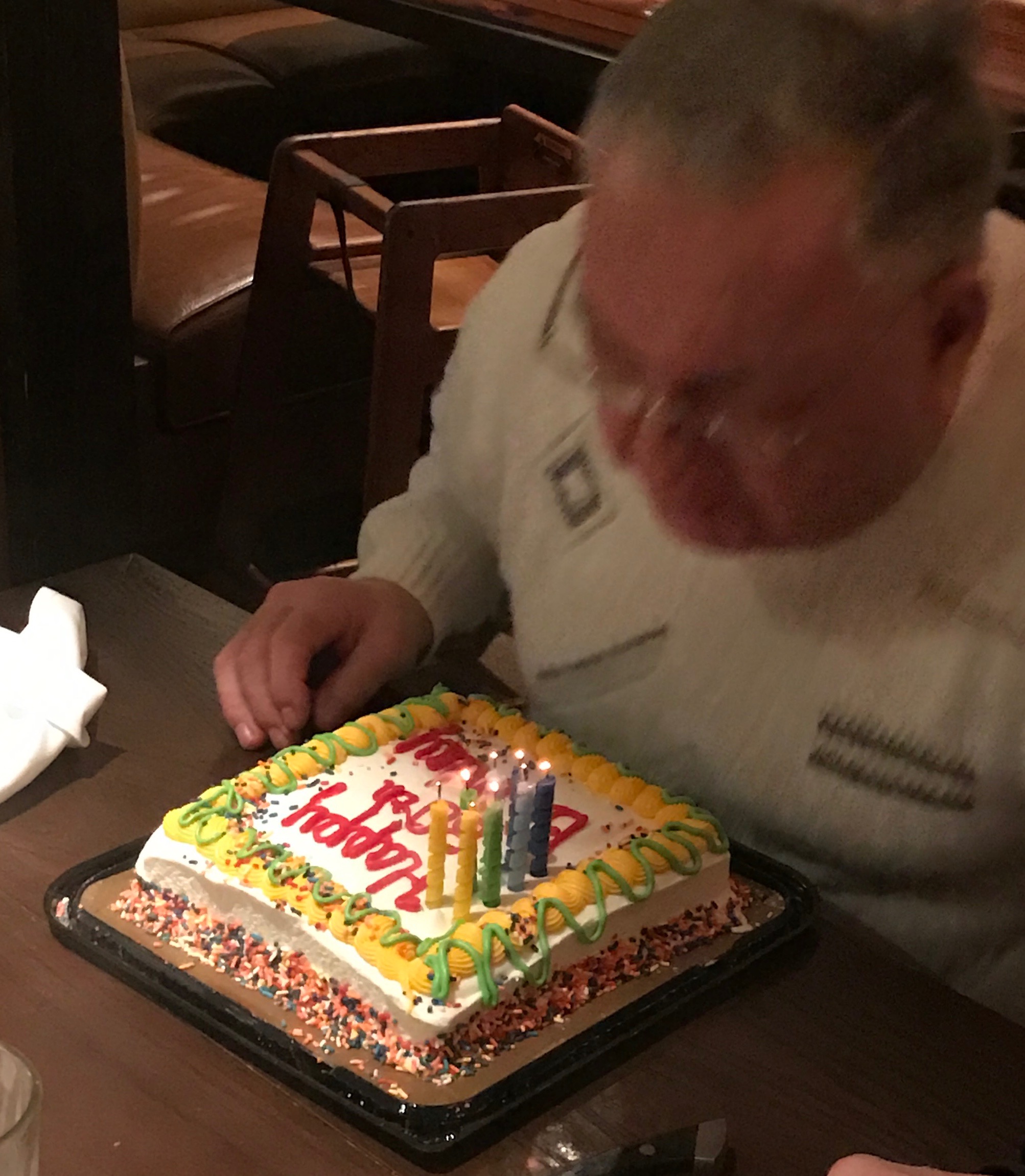 The first thing we did after setting up the party was to check out the website. My husband and I do eat seafood, usually when we go out, because too often restaurants only offer pasta or rice with vegetables as their vegetarian option. Or they have a frozen veggie burger or portobello sandwich if they try to get creative. Any of which I can make at home, so I hate buying them when we go out to eat. I rarely make seafood though, so it is an option we allow ourselves to have when we go out. Longhorn has a few fish dishes, including shrimp, salmon and swordfish. Most chain restaurants now list nutrition information with their menus and I have to say the Longhorn website is very user friendly in this respect. We chose the salmon and when you choose a meal you can then click on the nutrition facts and it gives you just about every combination you might order with your meal. It was eye opening! The salmon comes served over rice with a side of broccoli and a salad. Sounds like a fairly good choice, right? Here is how it breaks down, calorie wise: 300 calories for the 7 oz. fish, 230 calories for the rice, 90 calories for the broccoli and 100 calories for the salad (not including dressing). In all, about 800 calories, which is not that terrible for a restaurant meal. Of course, once you add in a drink and dessert (it was a birthday celebration), you are looking at well over 1000 calories. We decided to eliminate the rice and sub a plain baked potato to eliminate 100 calories, but more importantly, we eliminated over 1000 mg of sodium! When I mentioned how eye opening the nutrition facts were I was referring to the list of options you see when you click on a meal. If you decide to sub in french fries or mashed potatoes or mac 'n cheese or creamed spinach for the broccoli, you could easily send the calories for your meal over 1000, with close to your total daily intake of sodium as well almost 40 grams of fat. My point is, it is possible to make more nutritious choices when you go out to eat, even at a steakhouse, without feeling deprived. Our meals were tasty and it was wonderful to participate in the celebration.
This could probably lead to another topic about making the best of any situation, but that I will save for another blog!
Update to my favorite books: I finished A Gentleman in Moscow and loved it! Definitley on my list of terrific books!
As I mentioned, one of the options available at Longhorn is mac 'n cheese, which is one my all time favorite comfort foods! The problem with comfort foods is they are usually full of fat and calories. I decided to lighten up the traditional recipe by adding a lot of vegetables and using really flavorful cheese so I could use less. I also added some sautéed seitan and used non-dairy milk for the sauce. Alternatively, you could make a vegan sauce using this recipe I posted awhile ago. This recipe makes a ton, so feel free to halve it or be prepared to eat lots of leftovers!
Cajun Mac 'N Cheese
(we got 8 or 9 meals out of this recipe)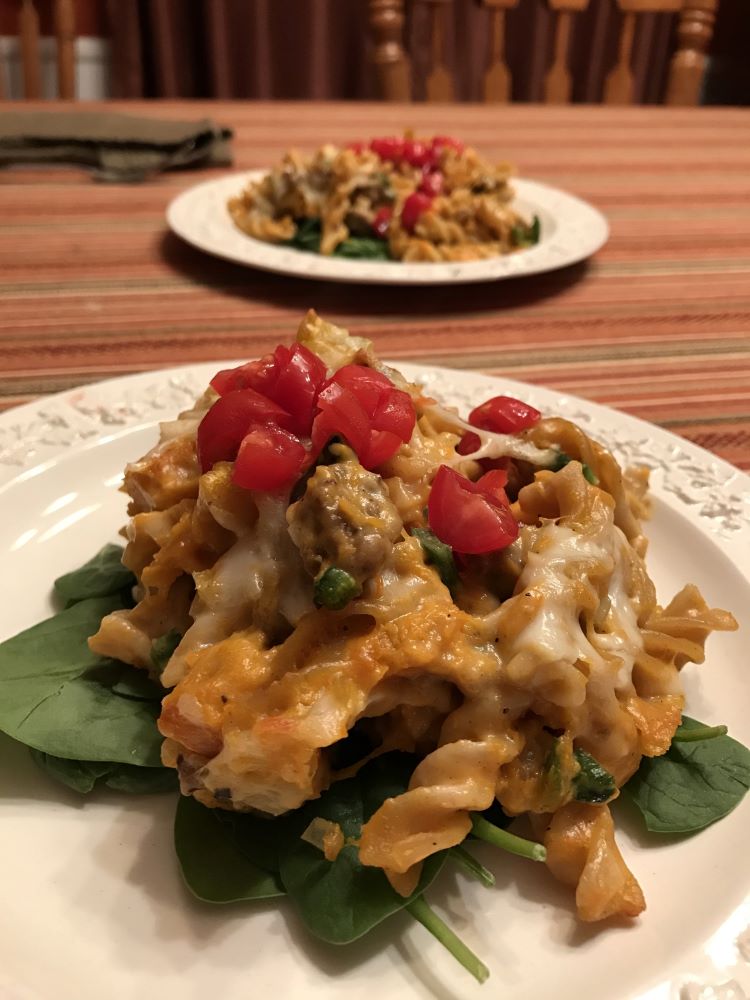 Ingredients (links are to the products I use):
2 small honeynut or butternut squash, peeled, deseeded and diced
2 tbsp oil, divided
1/2 medium onion, diced
1 chopped poblano pepper
8 oz seitan, crumbled
1 teaspoon cajun seasoning, divided
1/4 cup unsalted butter
1/4 cup whole wheat flour
2 cups non-dairy milk
3/4 cup shredded sharp cheddar cheese
1 tbsp hot sauce
1/2 tsp ground mustard
1/2 tsp salt
1 lb pasta, cooked al dente (I prefer short pasta such as penne or rotini)
1/2 cup shredded part skim mozzarella
Raw spinach, washed and roughly torn for serving (about 1/4 cup per serving)
Optional toppings:
chopped tomatoes, hot sauce, jalapeños, nutritional yeast, chopped avocado
Directions:
Place a roasting sheet in oven and preheat to 450.

Toss diced squash with 1 tbsp oil. Once oven and pan are preheated, carefully pour squash onto pan, evenly distribute it and roast for 20 minutes, stirring once, halfway through. Remove from oven and transfer to a large bowl and lightly mash. If you leave some lumps it's okay. Turn oven down to 350.

Meanwhile, heat remaining tablespoon of oil in a large sauté pan over medium heat. Add diced onion and cook until translucent, 5-7 minutes. Add poblano and cook an additional 5-7 minutes, until softened. Add seitan and 1/2 teaspoon cajun seasoning and cook until starting to brown, 3-5 minutes. Place seitan mix in bowl with squash and wipe out sauté pan.

Place pan back on heat and melt butter. Once foaming subsides, add flour and whisk constantly until flour is browned and smells rich, 2-3 minutes. Slowly whisk in milk and turn heat up to high. Bring to a boil, whisking constantly, and reduce heat to simmer. Whisk frequently until sauce thickens and coats the whisk. Remove from heat and stir in cheese, remaining 1/2 teaspoon cajun seasoning, hot sauce, mustard and salt. Stir until sauce is smooth.

Add sauce and pasta to bowl with squash and seitan mixture and gently stir until well mixed. Pour into a 13 X 9 roasting dish sprayed with non-stick spray. Sprinkle mozzarella evenly over the top. Place in oven and bake 20-30 minutes, until cheese is melted and starting to brown and casserole is bubbly and hot.

Place a handful of spinach on plate and top with mac 'n cheese. Add any additional toppings and enjoy!