I have written before about the reactions I get from people when they find out I am vegetarian. Last week I wrote about how we navigate eating at a steakhouse by allowing ourselves to eat fish and understanding that not everyone eats the way we choose. I try to make it very clear that it is exactly that, a choice we made for ourselves, and we would never expect anyone else to conform to the same decision. Thus, it is always interesting when I have a conversation with acquaintances who find out I am vegetarian and to hear their reaction. I recently had a conversation with someone about my search for a good, natural source of vitamin B12 because it is an important vitamin to take for vegetarians. She got quiet for a moment before stating she could not give up meat because she wouldn't know how to eat. I commented that I have been vegetarian for so long that I do not even think about it anymore. Then she said, "So it isn't a sacrifice for you anymore." My reaction to that was to tell her it was never a sacrifice. She then told me she had been raised in an Italian family and giving up meat would be a sacrifice. The conversation moved on but later she commented that she wished she was better about making good decisions about food. I agreed that it can be difficult and again we moved on. Later I thought about this conversation and realized that perhaps she finds it difficult to make good decisions because she views them as a sacrifice. I feel that as soon as we think we are depriving ourselves of anything, that is the very thing we crave. Then we end up justifying a bad choice by saying we deserve it or we have earned it or it is okay to indulge ourselves.
Perhaps it is time to change the self-conversation. When my husband and I go to a steakhouse we do not view it as a sacrifice to eat differently from our usual. (Ironically, many people would think we are taking a break from depriving ourselves of eating meat.) We look at the bigger picture of why we are there and then we enjoy the company. What if we thought of good food choices as being what we deserve? What if we think of a trip to the gym as being an indulgence that we have earned? What if we think of a walk after dinner as a treat? Making these type of choices should not be considered a sacrifice. Try this experiment: say to yourself that eating better is a treat you are giving yourself. It really changes the way you think about food. People often think that because we are vegetarian we must be eating only food that helps makes us healthy. The reality is our choice to not eat meat does not automatically make us healthier. Seriously, most bakeries are vegetarian! What we strive for is eating plenty of nutritious foods and staying active so that we can maintain a high quality of life as we age. That is the choice we make each day. We do not think of it as a sacrifice but as a decision to be good to ourselves. I have said it before: if you are not planning on treating your body well, what are you planning?
This week's recipe is the perfect example of how you can prepare a delicious meal that is full of nutritious foods and is not a sacrifice of enjoyment. I admit I was skeptical at first when I saw it did not call for cooking in any oil and did not use cheese, but the dish turned out so good that I cannot wait to have company so I can make it for others! A couple of notes: use a large pot to make it easier to stir all the ingredients on top of the stove and do not be afraid to add extra water as you cook. I added at least an extra 1/4 cup as I was sautéing.
Enchilada Casserole
original recipe from Forks over Knives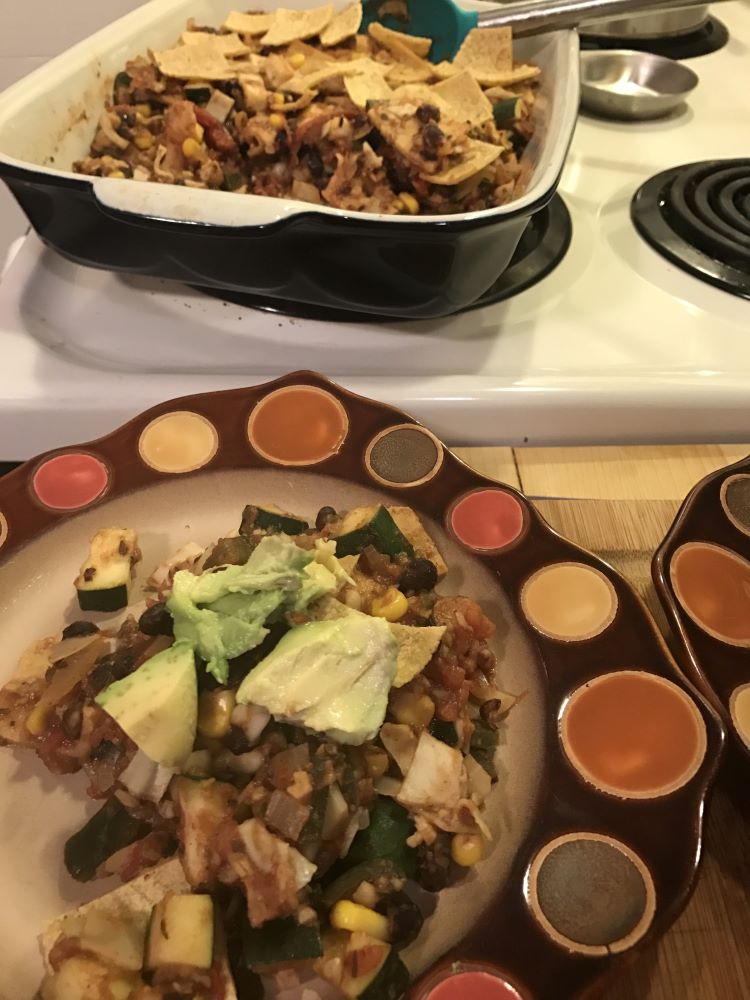 Ingredients:
1 medium yellow onion, chopped (about 2 cups)
1 medium poblano pepper, chopped (about 1½ cups)
1 jalapeño pepper, chopped (seeded and deveined if you do not like it spicy)
1 tablespoon freshly minced garlic
1 teaspoon dried oregano
1 teaspoon dried basil
1 tablespoon chili powder (adjust according to taste)
1 can (15 ounces) diced tomatoes (1½ cups), not drained
1 can (15 ounces) black beans (1½ cups), drained and rinsed
1 medium zucchini, diced (about 1½ cups)
1 cup frozen corn (drained)
1/2 a small head of cabbage, shredded
6 corn tortillas (6-inch) cut into 1-inch pieces
Optional toppings:
Guacamole or diced avocado
salsa
fresh tomatoes
hot sauce
Directions:
1. Preheat the oven to 375°F. Chop or prepare all ingredients before starting. Place 2 tablespoons of water into a soup pot on high heat. When the water begins to sputter, add the onion and peppers and sauté for 5 minutes.
2. Reduce the heat to medium, add the garlic, oregano, basil and chili powder, and sauté for 1-2 minutes more, adding water as needed to keep things moving.
3. Stir in the diced tomatoes, beans, zucchini, corn, cabbage, and 4 of the cut-up tortillas, and cook, covered, for 5 minutes more, stirring halfway through.
4. After the 5 minutes, place 1 cup of this mixture into a food processor and puree, then add this sauce back into the pot and stir. Spoon into a 9 × 13-inch baking dish (you do not need to prepare the dish with any oil or parchment paper).
5. Scatter the pieces from the remaining 2 tortillas across the top, and bake uncovered for 15 minutes.
6. Remove from the oven and let stand for 5 minutes before serving. Enjoy!