If you have been reading my blog for a while you know I am not big into formal diets. I feel the best way to stay healthy and at a reasonable weight is to be mindful of what you are putting into your body and to move your body. I also know this takes a certain mindset. You have to really want to make good choices and commit to a lifestyle of healthy living. This is different for everyone and you have to figure out what will work best for you. Referring back to my first sentence, a formal diet plan might be the best option for you. (By formal, I mean something like Weight Watchers or South Beach.) The important part is that you make a lifelong commitment to being well.
Study after study show that anyone who sets out to lose weight and succeeds without changing their mindset about food and exercise is doomed to put the weight back on, possibly even more than was lost. You have to devote yourself to yourself. This is true whether you want to lose weight or just be healthy. I don't have to tell you that eating crappy food will make you feel crappy, both physically and emotionally. Ever indulge in a food you know is unhealthy and then spend hours feeling guilty? How does your stomach feel after eating a plate of fried food?
To me, it all boils down to being kind to yourself. Giving your body the nutrients it needs by eating whole foods and limiting processed products is being kind to yourself. Exercising your muscles in some way everyday, is being kind to yourself. Indulging once in a while and then getting back to mindfulness is being kind to yourself. Giving into convenience and excuses is not being kind to yourself. Hating yourself for the way you look or the way you ate is not being kind to yourself.
My best advice to you if you are looking to make a healthy change or to maintain the good health you have, is to make a plan. I think about my day ahead before I get out of bed. It doesn't always go as planned, but at least I know what I want to accomplish and I get back to my original plan when possible. Perhaps you are someone who likes to write out to-do lists. Perhaps you have an app that will help you achieve your goals. Perhaps you have talked to a partner or loved one about your intentions and they will help you accomplish them. No one can do it for you. But once you set out on the journey, there is a lot of support. After all, we are all heading the same way.
One way I am trying to improve our food is by using dried beans. My biggest complaint is what everyone always says, they take too long. I have to remember to soak them overnight and then they take an hour or more to cook before I can even make a meal! There are quick soaking methods, but they still involve long cook times. What I try to do is soak a lot of beans and cook up large batches. I can store them in the fridge and use them throughout the week or freeze them and use when needed. Why not just used canned? The texture. They are not mushy and they have a lot more flavor. Plus, I can control how they are cooked. I can add whatever spices I want to match what I plan to make (for example, I cooked up large white beans using Italian herbs because I knew I was making greens and beans). It really is easy, just time consuming. Luckily, it is not hands-on time, so you can be doing other things while they cook. Good to know: dried beans will cook up about three times in size. 1/2 cup dried beans will be roughly 1 1/2 cups cooked, or about the amount in one can. Give it a try!
Cajun Joes
Ingredients:
1/2 cup dried red kidney beans, soaked overnight*
1 bay leaf
1 teaspoon garlic powder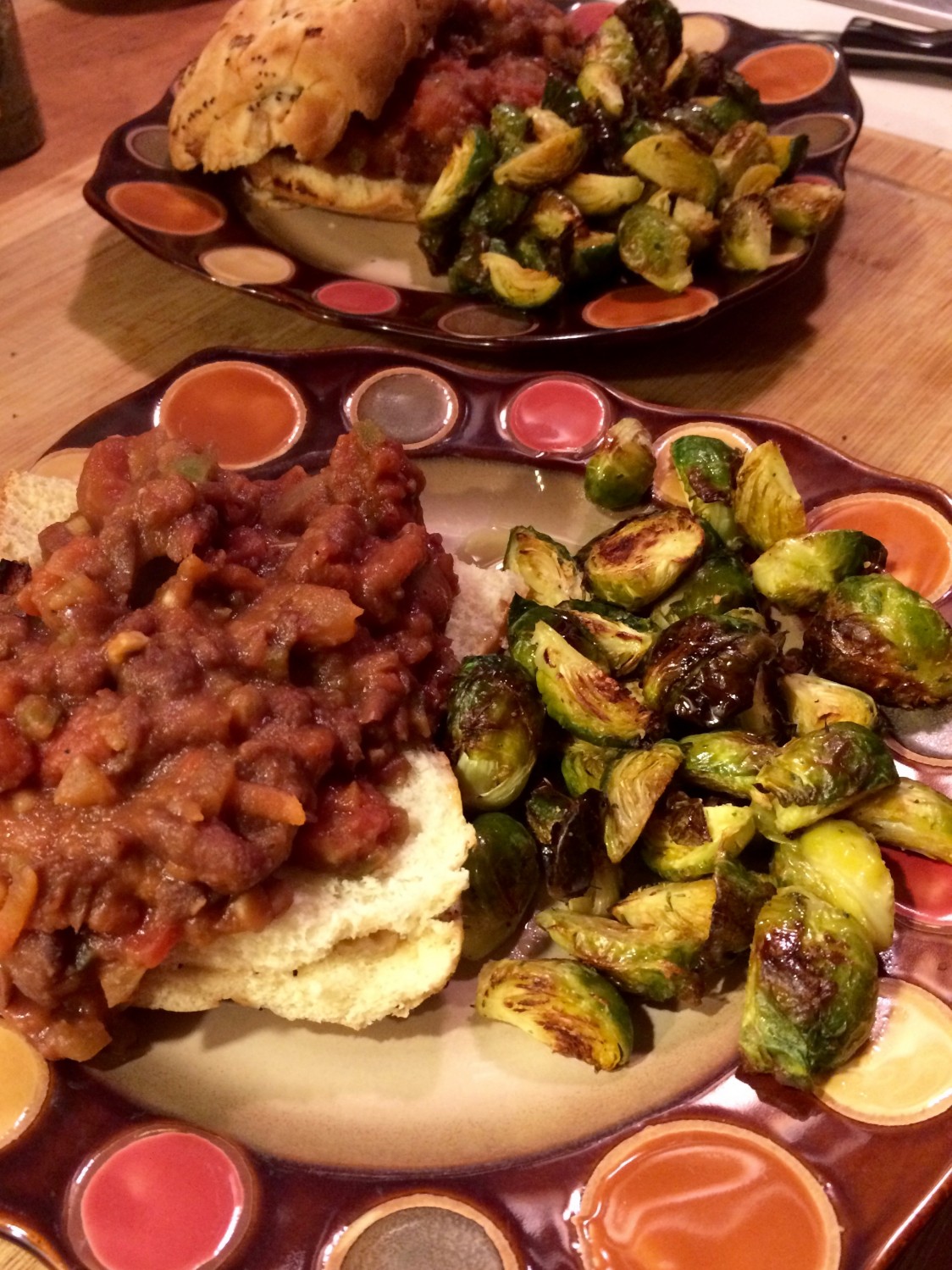 1 teaspoon onion powder
1 teaspoon cajun seasoning
1 teaspoon salt
1 tablespoon olive oil
1/2 cup onion, diced
1/2 cup carrot, shredded
1 clove garlic, minced
1 jalapeno, diced (optional)
1 can diced tomatoes
Splash of red wine (optional)
1 tablespoon brown sugar
1 1/2 teaspoons cajun seasoning
1 tablespoon butter (optional)
Salt and Pepper to taste
4 whole grain buns for serving
Directions:
Drain beans and cover with fresh water, about 4 cups. Add bay leaf, garlic powder, onion powder, cajun seasoning and salt. Bring to a boil and reduce heat. Cover pot and simmer 1-1 1/2 hours, until beans are soft but not mushy. Drain beans and discard bay leaf**. You should have 1 1/2 cups of cooked beans.
Divide the beans in half. Mash 1/2 the beans with a potato masher in a medium bowl. Set aside.
Heat a medium sauté pan over medium heat. Add oil and when it is heated, add diced onions. Cook until they are softened and translucent, 5-8 minutes. Add carrots, garlic and jalapeno (if using) and cook an additional 5-8 minutes, until carrots are softened. Add tomatoes, wine (if using), sugar, cajun seasoning and beans (mashed and whole). Simmer for 15 minutes, until everything thickens. Add butter (if using) and stir until melted. Taste and season with salt and pepper.
Serve on buns. You may need to eat with a knife and fork!
Enjoy!
*Can substitute one can of drained and rinsed red kidney beans. If you do, skip step 1.
**If you are making soup with your beans, don't discard the cooking liquid. You can use it as your broth. I cooked twice as many beans for this recipe and used the cooking liquid and rest of beans to make minestrone soup.