My husband and I are headed to Florida in a few weeks. Of course that leads to panic because I will have to get into a swimsuit. In the middle of the winter. Yep, panic. Immediately I think I need to lose weight and work out harder. Then I take a deep breath and think I should just accept myself and be satisfied that I am healthy and active. Then the next thought is if I could only lose 10 pounds I would look better. Then I go back to thinking I look pretty good for 50 years old! Then I berate myself for the extra glass of wine I had last night. Then I say to myself it was okay and I will cut back today. It just goes back and forth like a pinball! At some point everything goes TILT and I walk away from the mirror.
I feel we get bombarded everywhere we look by opposing viewpoints. Women are depicted in some media as perfect if they are a size two and in other publications we are told we are perfect no matter what size we are. Stand in line at the grocery store or go online on your computer and you can be reassured that the perfect diet or workout is just what you need to feel good about yourself. Or you can read how accepting yourself and ignoring what Hollywood and advertisers depict is the way to go to feeling good about yourself. It is mind boggling!
I wish I could say that I will just tell myself to ignore the negative thoughts about my body and focus on the positives. Why do I try on a sleeveless shirt and immediately look to see if my arms look too flabby? Why do I put on a pair of pants and turn sideways to make sure my stomach doesn't look too big? Why do I put on a dress and look to see if my hips look too big? I am not defined by a number on a scale or on a tag. And yet if the scale gets down to a certain number I rejoice as if that was all I needed to be happy. If I try on a pair of pants in a size I haven't worn since I was 25 and they fit, I giggle and act like a I just won a prize. At other times (sometimes just a few minutes later) I avoid those numbers and give myself a hug and try to convince myself that being happy, healthy and energetic is worthy of celebrating. Of course that is the better way of thinking.
Where is the balance? Accepting the way your body looks is not as easy as just saying you will and then getting on with the day. Nor is it an excuse to give up on healthy choices. To me it means finally realizing that no matter how many squats I do or how many miles I run I will never have cellulite free thighs. And that is okay. My body can still do the squats and I can still run. That is what is important. And as for those clothing sizes? Remember the blog I wrote about vanity sizing? I had an eye opening experience with this recently when I picked up two pairs of pants to try on at Banana Republic. I thought they were two different sizes and when I tried them on one was definitely a lot larger than the other. When I was rehanging them I noticed they were actually marked the same size. Those tags really are meaningless and should never be used to judge yourself.
I will continue to be a work in progress when it comes to accepting myself. Maybe I will put flashing lights around my mirror and when my thoughts start pin balling around I will turn them on, declare myself a winner and continue on my way.
This week's recipe is from Whole Foods. Often I change recipes because they may call for ingredients I don't have or like or I read them and get ideas for making them my own. This one is so good, though, I am just leaving it as is. I have made this for dinner parties, Thanksgiving dinner and just for the two of us. It is delicious, filling and great as leftovers. To cut down on prep time you can use pre-packaged, cut up squash. I use vermouth for the wine because I usually have it on hand. I make the bread crumbs in my mini food processor from two slices of whole wheat bread. I have used honey squash instead of butternut with terrific results. If you would like to make this vegan, substitute a flax egg (soak 1 tablespoon ground flax in 3 tablespoons water for 10 minutes) for the egg and either eliminate the cheese or substitute nutritional yeast. Feel free to use your favorite nut. Almonds or walnuts would be delicious.
Winter Squash and Nut Pie
recipe from Whole Foods
Ingredients:
1 (3-pound) butternut squash, halved lengthwise, peeled and cut into 1-inch cubes
3 tablespoons extra virgin olive oil, divided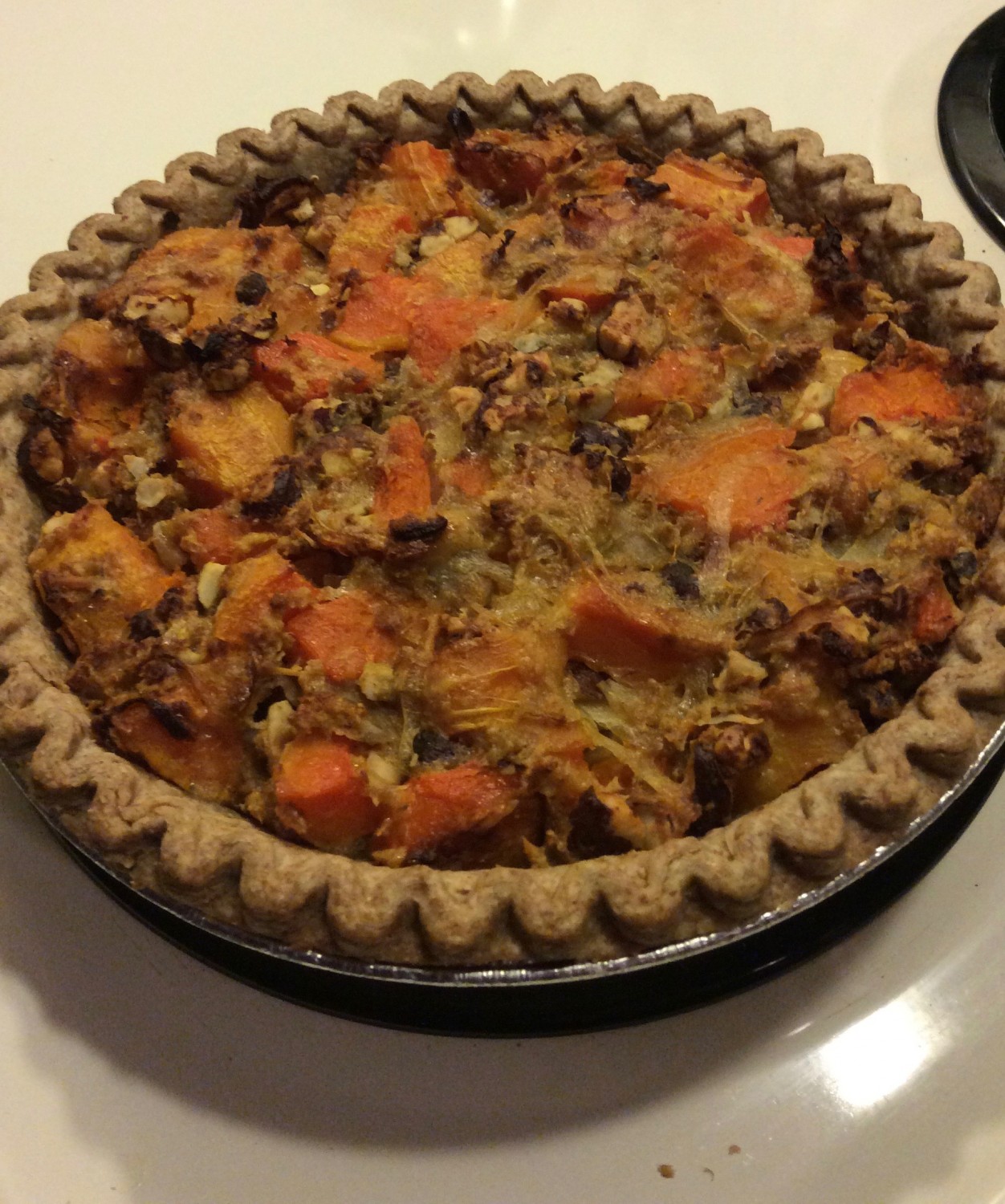 Salt and pepper to taste
1 yellow onion, thinly sliced
2 tablespoons dry white wine
1/2 cup freshly grated Parmigiano Reggiano
1/2 cup toasted hazelnuts, roughly chopped
1 egg, lightly beaten
1 cup fresh bread crumbs
1 frozen 9-inch whole wheat pie crust (in pie pan)
Directions:
Preheat oven to 400°F. In a large bowl, toss squash with 2 tablespoons olive oil, salt and pepper. Arrange squash in a single layer on a large baking sheet. Roast, tossing occasionally, until squash is tender and golden brown, 25 to 30 minutes. Transfer to a large bowl and set aside.
Meanwhile, heat remaining 1 tablespoon oil in a large skillet over medium high heat. Add onion and cook, stirring often, until browned, 7 to 9 minutes. Add wine and cook, scraping up any brown bits, for 1 minute more.
Add onion to bowl with squash then add Parmigiano Reggiano, hazelnuts, egg, bread crumbs, salt and pepper and toss gently to combine. Transfer mixture to pie crust, pat down lightly and bake until crust is golden brown and filling is hot, about 40 minutes. Set aside to let cool for 10 minutes before slicing and serving.