For the last seven weeks I have spent Wednesday afternoons in a support group for people with Alzheimer's (or other forms of dementia) and their caregiver(s). Last week there was a guest speaker named Barbara Bruce, author of Mental Aerobics. She gave us a list of 14 habits we can engage in to help keep our brain healthy. They include challenging your mind, think positive, sing, play, laugh (I knew all those funny cat videos were not just a waste of time!) and reflect. The first two activities on her list, however, fit right in with what I have been blogging about for the last year: exercise and eat smart.
I have written about how taking care of yourself is so important to maintain a high quality of life. People find all kinds of excuses not to eat well or work out. They say they don't have the time, or it is too expensive or they plain old don't want to. I get it! I would rather eat a plate of french fries than go for a run! I have said before that the best part of my work out is when I am done! Listening to Barbara talk made me feel so much better about the choices I have been making, though. I want to continue to be physically and mentally healthy as I age. I want to always recognize my husband as the love of my life and continue to travel with him and enjoy our life together. I hope to see my nieces graduate college, get married and perhaps have children (I hope I am already a great aunt, but I could be Great Aunt Teri one day!). There is so much left to experience! The biggest risk factor for developing Alzheimer's is getting older. Making better choices today (and tomorrow and the next day, etc.) is an investment in your future, and hopefully in your long, high quality life. You have heard me say this before as well: if you are not planning on taking care of yourself, what are you planning?
Since food is a passion of mine I was curious if there are items you can eat that would improve your overall brain health or help lessen the effects of dementia. A couple weeks ago a doctor spoke to our group and I asked him about all the information I see on the Internet involving eating coconut oil, taking high doses of Vitamin E, stay away from aluminum, etc. Could any of these "remedies" be effective? The answer is no. The information posted is usually anecdotal or there is an underlying sponsor hoping to make money. Medical research has yet to find any beneficial solutions linked to these claims. The best thing you can put in your body is food that is minimally processed, is the right blend of nutrients and is in correct portions. And then get out and move! Motion is lotion!
Whew! Heavy thoughts today! Time for a light summer recipe. I do not want to turn the oven on or spend a lot of time over the stove today. The Food Network Magazine put out a booklet with 50 Picnic Salads and I have been trying a lot of them. The best part of making summer salads is you can pretty much add whatever veggie or grain or bean you want! They are so easy to alter to your own preference. Last night I made my black bean and corn salad but did not have any peppers, so I added tomatoes instead. I also chopped up an avocado and put it on top. This week's recipe uses rice but quinoa, bulgur, couscous, etc. would work. Don't like cilantro? Use parsley! Jalapeños too hot for you? Use sweet peppers. No red beans? Use black beans! Can't do limes? Use your favorite vinegar! Once you find a dressing you like you can use it for almost any salad you can think up. I often serve these type of salads over a bed of greens.
Southwestern Rice Salad
from Food Network Magazine
Ingredients:
1 1/2 cups rice (I used brown) rinsed and drained
1 tsp chili powder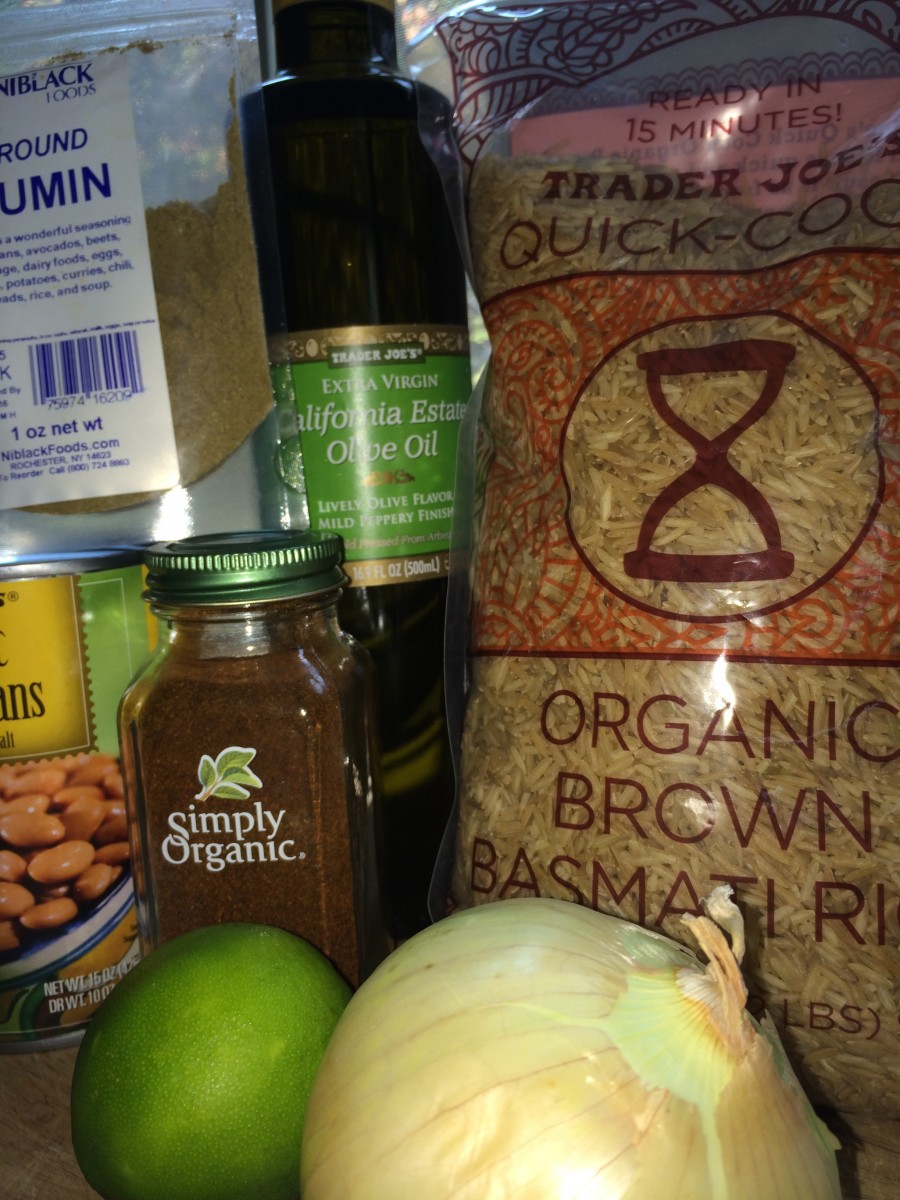 1 tsp cumin
1 can (15 oz) red beans, rinsed and drained
1/2 sliced red onion
1/4 cup chopped cilantro
1 minced jalapeño
1/3 cup good olive oil
2 tablespoons fresh squeezed lime juice (about 1 lime)
salt and pepper to taste
Directions:
Combine the rice, chili powder and cumin with 3 cps of water. Bring to a boil, cover and turn down to simmer. Cook for required time listed on rice package. Remove from heat and allow to cool. Mix with remaining ingredients. Serve cold or room temperature.
Enjoy!