One of my Facebook friends recently posted a quote from Christopher Walken: "None of us are getting out of here alive, so please stop treating yourself like an after thought. Eat the delicious food. Walk in the sunshine. Jump in the ocean. Say the truth you're carrying in your heart like hidden treasure. Be silly. Be kind. Be weird. There's no time for anything else." Everything he states is true. You should put yourself first and you should not miss out on the many pleasures life has to offer. However, there are times when you need to consider others and there are times you need to be serious and cautious. The trick is figuring out how to balance both approaches.
His first example is about food so of course that catches my attention. We all know people who either don't enjoy food or who are hyper vigilant about what they eat. And then there are the people who don't know how to be creative and eat only kale and chicken or burgers and fries. (If you want to know how I feel about kale, check out this comic strip.) If you have been reading my blog for a while, you know I am an advocate of mindful eating. Basically, make your decision about what to eat thoughtfully and not automatically. Usually the answer is to stick to a healthful eating plan but sometimes you might need to say yes to dessert. And that is ok. The same goes for the rest of his statement. Look for the beauty that is all around us. Here is a cool picture I took when I was driving to the gym (I was at a stop sign. Sorry about the dirty windshield):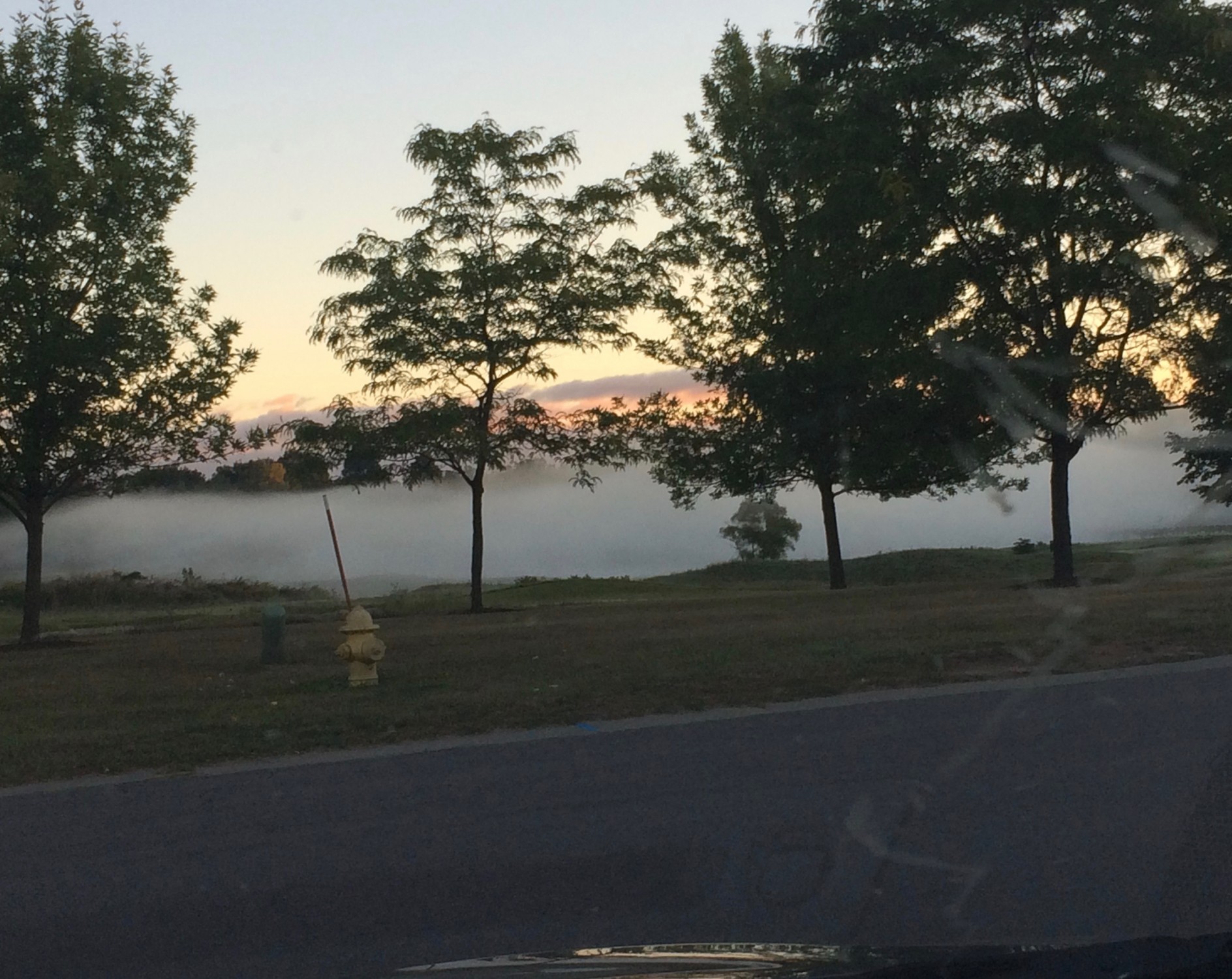 What looks like fog was caused by sprinklers on a golf course creating a cloud when the water hit the cold air. If I had just been focused on where I was going I would have missed this experience. Have you ever been to a party where there is dancing and see people grooving by themselves on the sidelines while they watch the dancers? The last wedding we went to we were sitting at a table of strangers and when the band started my husband immediately grabbed my hand and led me out to the dance floor. When we took a break a woman at the table remarked how lucky I was to have a husband who liked to dance. I immediately told her to join us! Life is too short to sit at a table wishing you were dancing! Trust me, no one gets to the end of their life and regrets dancing or taking a beautiful picture or playing with a child or standing in the ocean or enjoying a cinnamon roll or reading a good book. The regret comes from not doing things that bring pleasure. The hard part is finding the balance between responsibility and indulgence. After all, as Mr. Walken states, we aren't getting out alive. Take advantage of every opportunity you can to enjoy each day.
Speaking of enjoyment, I have been loving this week's recipe so much I have eaten some version of it almost every day for the last two weeks! Tomatoes are everywhere right now and this simple bruschetta is delicious! I add a base of hummus to get my protein and then top with the ripest tomatoes I can find, preferably home grown. Serve it as a main dish with a side salad or serve as a side. As always, make it your own by using your favorite hummus, vinegar, crusty bread, cheese or leafy green.
Fresh Tomato and Arugula Bruschetta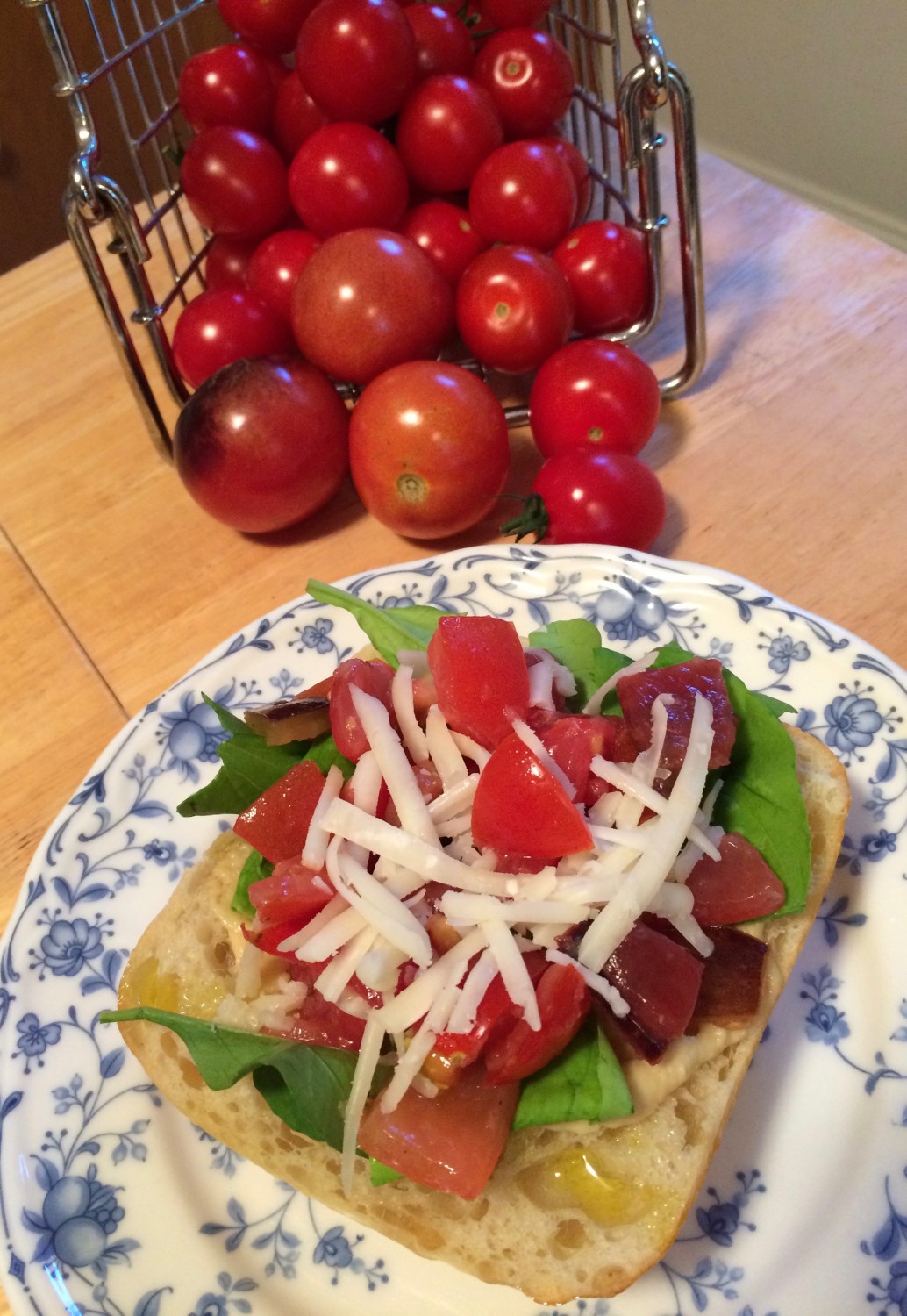 Ingredients:
2 ciabatta rolls
1 heaping cup chopped, fresh tomatoes
1 clove garlic, minced
3 or 4 basil leaves, torn
1 teaspoon good olive oil
Splash of good balsamic vinegar
Salt and pepper to taste
4 tablespoons hummus, store bought or homemade
Good size handful of arugula, washed and torn
1/4 cup shredded parmesan cheese
Directions:
Slice the rolls in half and toast.

While rolls are toasting, mix tomatoes, garlic, basil, olive oil, vinegar and salt and pepper in a medium mixing bowl.

Spread 1 tablespoon hummus on half of roll. Top with arugula leaves, tomato mixture and shredded cheese. Repeat with three remaining roll halves. If desired, place in oven under broiler just long enough for cheese to melt (30 seconds to 1 minute).

Enjoy!