My sister and I are less than a year apart in age. Our mother used to joke that she felt she was caring for twins, but for us it was awesome because we had a built-in playmate! Behind our childhood home were acres of undeveloped land with open fields, woods and a stream. We spent hours exploring, building forts, climbing, running and using our imagination to create our own world. Flash forward 40 years and much of that land is now covered in homes. My parents still live in the same house and we often will reminisce about our adventures when we are visiting. When I was 8 my parents put in a pool and between that and the fields, I don't think we ever came inside in the summer except to sleep! Now I am lucky enough to live in the house my husband grew up in and he has similar stories of long days spent with friends wandering and playing for hours. It is still a special neighborhood, one my friends often say is Leave it to Beaver-ish. Yesterday was our annual picnic and we had a blast. We invited my father-in-law who was able to tell many of our neighbors much of the history of their houses. Then my husband talked about the hours he spent playing golf on a college course that backs up to our neighborhood. We all knew that the course was slowly being claimed for expansion and different uses by the college, but he was interested to see how it looked. A grown-up adventure! The three of us set out to explore and were told to report back. This is what we found: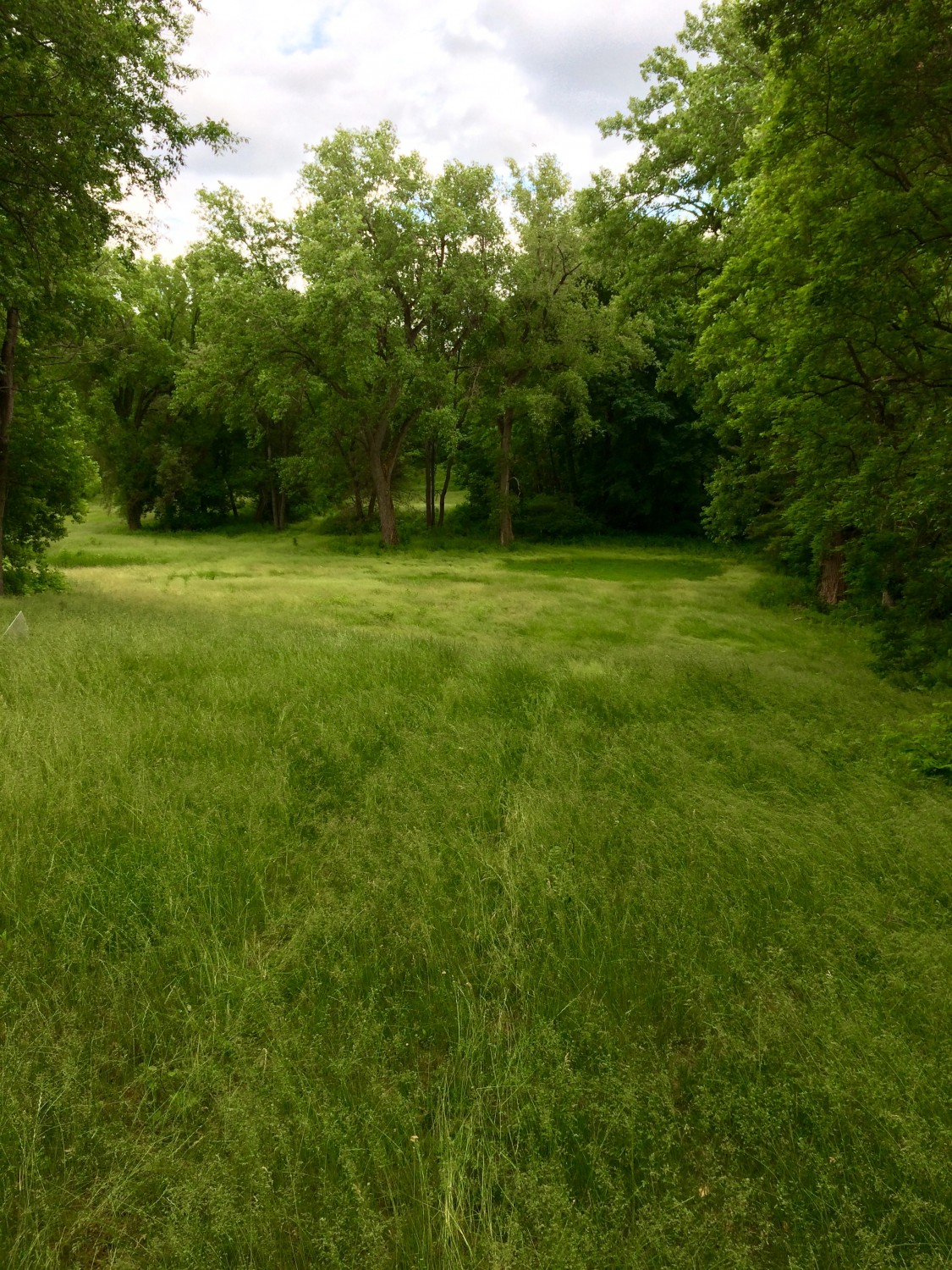 A couple of overgrown fairways.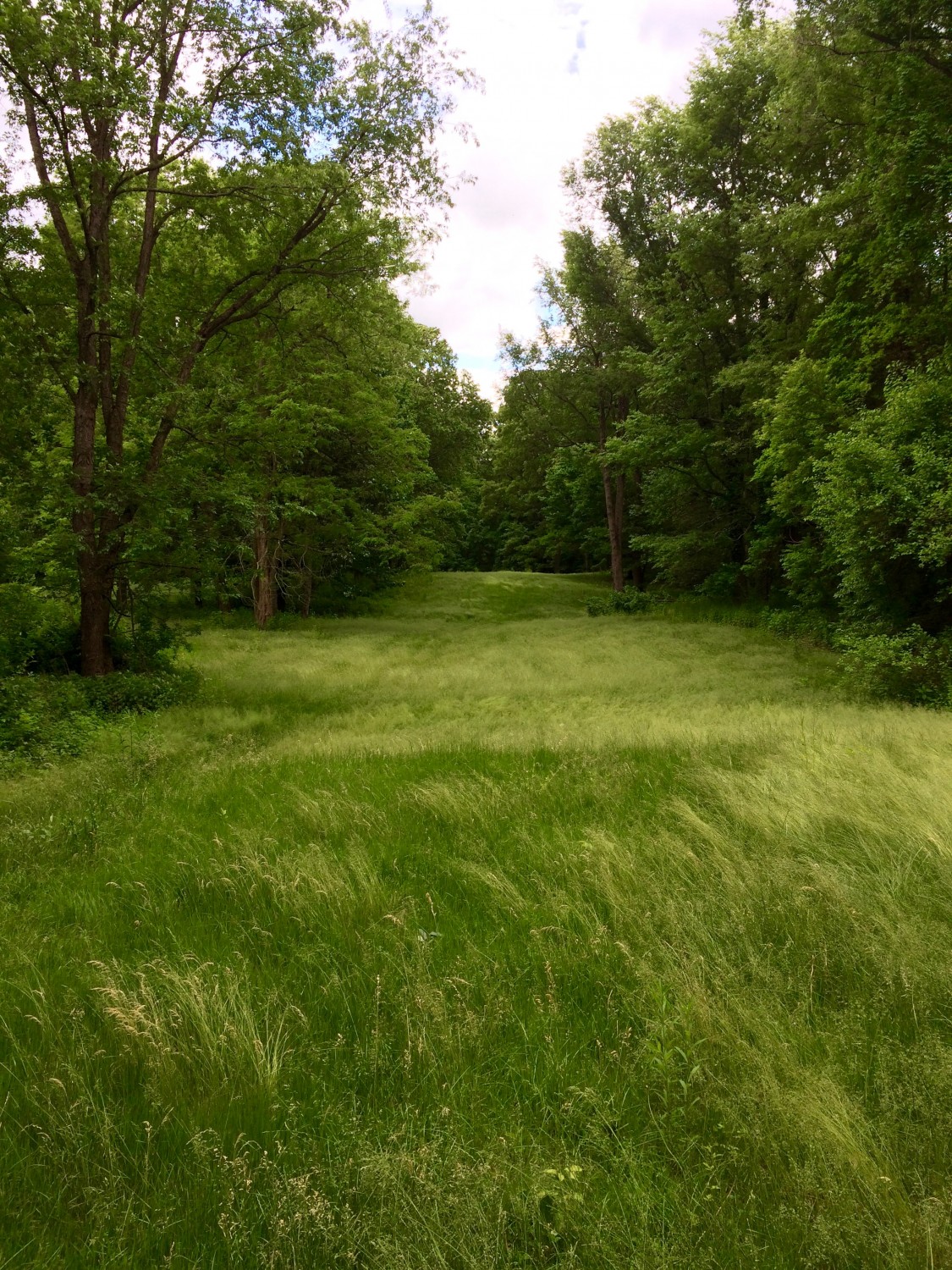 I watched my husband and father-in-law walk around the overgrown course and listened to them talk about the fun they had playing together. It was an amenity that exists only in memory now. The college will more than likely use the land for new building or sports arenas, which is wonderful since it means it is thriving, but it was also a melancholy day for remembering what once was there. I am sure many of you have similar stories and memories from your childhood.
Last week I talked about finding the new normal as I get older. Yesterday was another reminder of this. All that walking through tall grasses triggered an allergy attack that left me almost incapacitated! As I blew my nose for the umpteenth time, sneezed non-stop and tried to look through swollen eyes, I just had to shake my head and laugh. Figuring out what I can and can't do is exhausting! I used to spend hours playing in grass and hay! I remember having allergies but never to the point that I felt like never going outside again! Anybody got a bubble I can live in? Okay, that is a bit extreme, but it seems everyday I get a reminder that my body is getting older and I have to learn what still works and what needs extra loving. Today I woke feeling like a truck had run over me but I did not want to skip getting some exercise. I have always heard that it is okay to work out if you are sick from the neck up (think head cold vs. stomach upset). But I was tired, since sleeping was difficult due to being stuffed up and I still felt like I was moving underwater. The hardest part of any work out is getting started and some days are harder than others! That's when having a motivational saying up your sleeve really helps. I told myself that if I just got going, in an hour I would be much happier. I found a yoga video that focused on self-love and I rolled out my mat. I encourage everyone reading to always make that time for yourself, no matter how much you might rather curl up or loaf around, your body will be happier. And then you can curl up and loaf around almost guilt-free!
One last thought: at the picnic I had a nice converstaoin with a neighbor. She talked about how she had a recent injury that has forced her to cut back her workouts and she has turned to walking 30 minutes a day. She has lost 4 pounds and her clothes are fitting differently. She was amazed because, at 47, she didn't think walking would do that much for her. She is finding her new normal!
This week's recipe is for cookies because our street was assigned to bring desserts to the picnic and these are always a hit! Blueberries are in season right now but you could use frozen if needed. One person remarked they are like a cookie and blueberry muffin rolled into one! The dough needs to chill for an hour, so plan accordingly.
Lemon Blueberry Almond Cookies
original recipe from Giada De Laurentis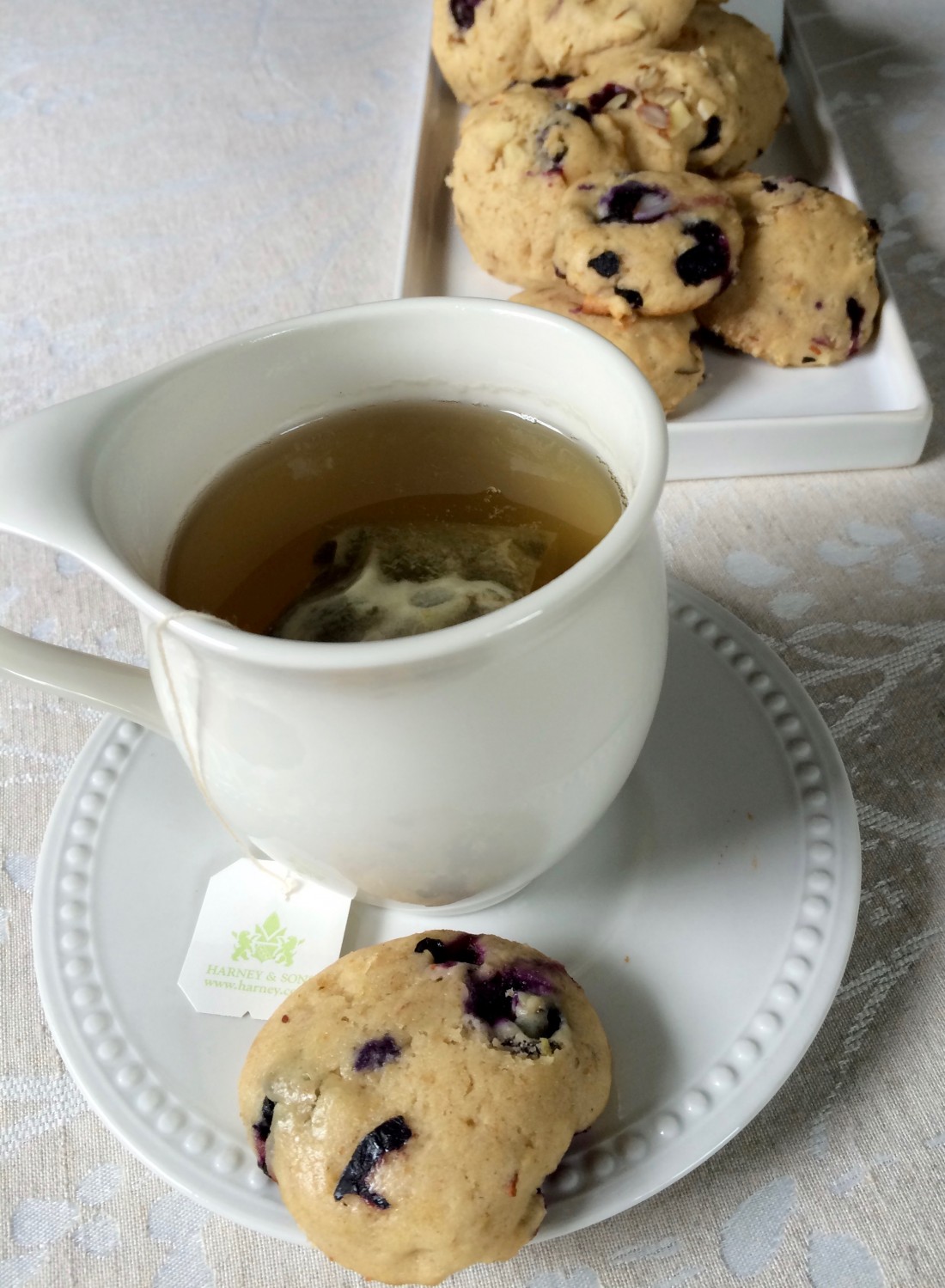 Ingredients:
2 cups flour
2 teaspoons baking powder
1/2 teaspoon salt
1 stick vegan butter (I use Earth Balance sticks)
Scant cup sugar
1 egg or flax egg (1 tablespoon ground flax mixed with 3 tablespoons water)
1/4 cup Cashew milk (or other non-dairy milk)
2 tablespoons plain greek yogurt
1 teaspoon almond extract
Zest of one lemon
1/2 cup chopped, slivered or sliced almonds, toasted*
1 cup blueberries
Directions:
In a small bowl, mix flour, baking powder and salt together.
In large mixing bowl, cream butter and sugar together with and electric mixer. Add egg (or flax egg) and beat. Add milk, yogurt, zest and extract and blend. Add in dry ingredients gradually (I add half, blend and then add rest) and beat until just mixed together.
Fold in almonds and blueberries and chill dough in refrigerator for at least one hour.
Preheat oven to 375. Line two cookie sheets with parchment. Scoop out about two tablespoons of dough, form into ball and place on sheet. Repeat with rest of dough until you have about 30 cookies. Gently press down to flatten each ball slightly.
Bake for 15-16 minutes, until cookies look dry and golden brown. Cool on wire rack.
Enjoy!
*Toast almonds in toaster oven or in saute pan on stove.