Last Monday was Memorial Day and we spent it with my side of the family. We had a lovely day that included a picnic at my brother's house. The older I get the more I appreciate the times I can get together with my brother and sister and their spouses to catch up on what is happening in our lives and to share memories and lots of laughs. A couple times we laughed so hard we were crying! The best was when we started sharing funny videos we had seen that almost had us rolling in the grass. (My favorite? Check out Funniest Game show Answers of All Time). It hit me afterwards how, once again, computers are a part of our everyday lives. This is so normal that it is hard to remember growing up and not having a phone/computer right in our pocket. When I have a question I can bring up Siri and ask her to provide an answer. If I want a recipe that includes mushrooms, leeks and white beans, I can google those ingredients and get thousands of ideas. Need to know if it will rain? Radar is only a click away! If I am headed out I can pull up a map application and it shows me where the traffic jams are. We live in a great time when we can still remember what it was like to play outside and create our own entertainment and also marvel at the conveniences of computers, Netflix and online shopping.
Part of this new normal is accepting that our bodies are getting older and more temperamental. We spent a lot of time on Memorial Day talking about our aches and pains, testing we have to get done now that we are all over 50 and what the future holds for our parents. My poor nieces! I could almost hear their eyes rolling! I have often written about listening to your body, especially when exercising. Our minds might still want to work out like we are 25, but our bodies tell us they need a little more time and, perhaps, some modifications to stay injury and pain free. Just like with almost everything, no two bodies are the same and what works for someone else isn't always right for you. It is sometimes frustrating to see how some people are seemingly able to get through life without ever having to slow down. How is it some people can avoid arthritis or muscle aches or joint pain? A lot of it boils down to genetics. Learning to live with what your body can do and not compare yourself to others can be one of the hardest exercises around! The most important thing to remember, however, is it is vital to continue to exercise as we age. Nobody's body is designed to be sedentary. Along with the benefits of maintaining a high quality of life, check out this study that seems to indicate that exercise can actually slow down the aging process. Granted, it is a small study on only 104 adults and there isn't really a way to know how much genetics can account for the results. However, the conclusion that science is providing ways for us to live longer and exercise can help make those extra years active is a point worth remembering. Spend some time each day moving your body. Find what works best for you, whether it is taking a walk or jog, doing yoga, biking, swimming, lifting weights, golfing, gardening or any combination, just get moving! And don't try to keep up with the 20-somethings. Seriously, even in races and competitions they divide people up based on age because they know it isn't fair to expect the same from our bodies. And yes, there will be exceptions to this (remember, some people are genetically blessed). We are supposed to be smarter the older we get right? Keep using your brain to pay attention to your body and, in the words of the yoga instructor I follow online, find what feels good!
With Memorial Day past us, it is the start of picnic season! I often get asked what is the best veggie burger to buy. There are so many choices now, it is a hard question to answer. My new favorite is Morning Star Quinoa and Sweet Potato, but I really only turn to store bought patties when I am in a hurry. Making your own veggie burger is fairly easy and there are an infinite number of combinations! Google veggie burger recipe and you will get close to two million hits! I find you can use beans or a grain as the base, add some finely chopped veggies, fresh or dry herbs, and some kind of binder such as an egg, flour, bread crumbs or a flax egg to create your own version. The hardest thing about veggie burgers is how fragile they can be when you go to flip them. I use the two spatula method: use one spatula as a brace and slip another underneath to flip (this works with pancakes too). They will usually firm up as they cool. Also, refrigerating them before cooking for an hour or so can help. When you make your own you can avoid the fillers, preservatives and ingredients in the store bought ones that are less than ideal. This recipe is full of my favorite things (I cannot get enough of arugula and lemon!), but you can sub in your favorites. Try using a different grain, veggies or herbs to create your own version. Use my measurements as a guideline and it should turn out great!
Millet and Arugula Burger
makes 5 patties
Ingredients:
1/2 cup millet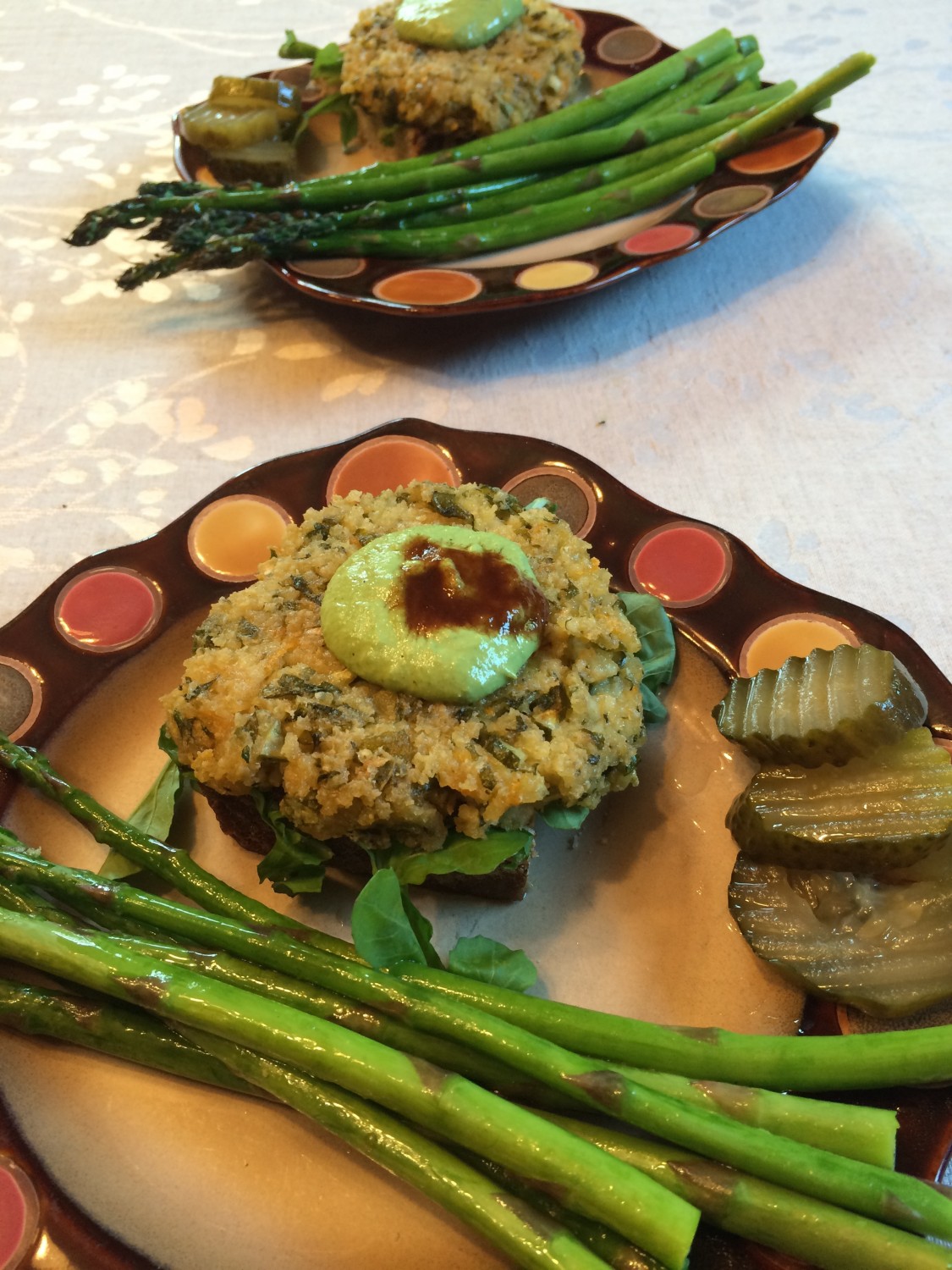 1 1/2 cups chopped arugula
2 tablespoons chopped, fresh mint
1 clove minced garlic
1/2 cup seeded and finely chopped cucumber
1/4 cup olive oil
Zest and juice of one lemon
Salt and Pepper to taste
1/2 cup whole wheat flour
1 1/2 tablespoons corn starch
Directions:
Stir millet into 1 1/2 cups water, bring to a boil, reduce heat and simmer for 12-15 minutes, until water is absorbed. Remove from heat and let rest 20 minutes. Place in a large mixing bowl to cool.
While millet is cooling, preheat oven to 350 and prepare the arugula, mint, garlic and cucumber. Add to the millet along with oil, lemon zest and juice and salt and pepper. **At this point you will have a tasty, grain salad, similar to tabbouleh! I actually double all the ingredients and remove half, add some chopped tomatoes and eat as a salad.
Add flour and corn starch and mix well, using your hands. If it seems too dry, add more oil. If it is too wet, add more flour. Form into 5 patties. Place on a parchment lined cookie sheet and bake for 40 minutes, flipping half way. They will be done when they start to look gold brown.
At this point you can serve with your favorite toppings. Or, warm some oil in a saute pan and cook the patties for a couple minutes per side to add a nice crunch.
Enjoy! The picture to the right shows our dinner. I topped my burger with Cashew Parsley Lemon Sauce and a splash of Chipotle Tabasco and served them open-faced on whole grain bread and extra arugula with roasted asparagus.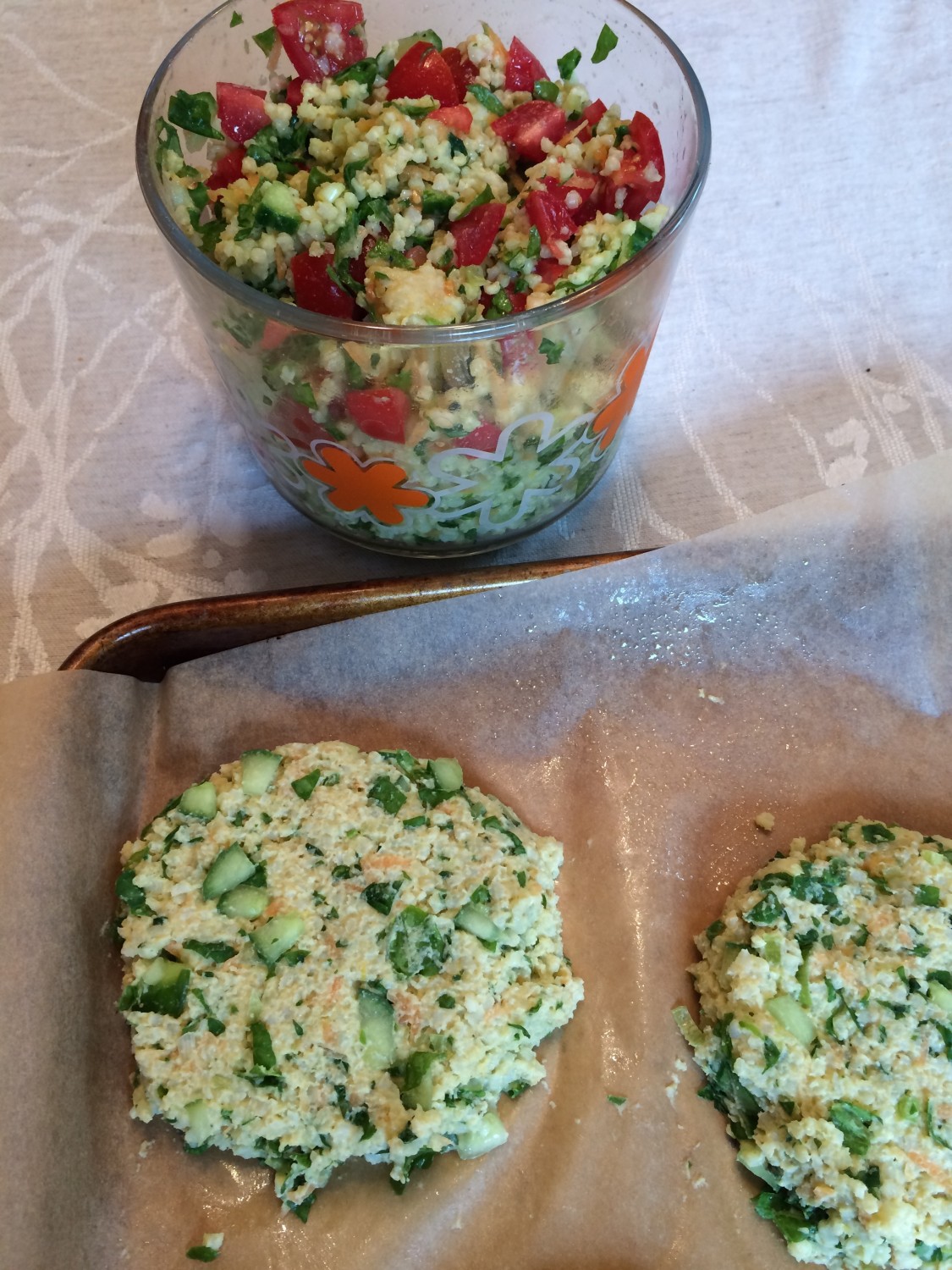 Burgers prior to cooking with grain salad that is the base of the burgers.