Can you stand one more post about sticking to healthy habits in the new year? I recently read an article called Surprising Reasons You Overeat by Sheryl Kraft. Great title, right? Right up until she says it's not your fault. Um, so there is someone tying you down and force feeding you more food than you need? The article has good suggestions, but first we need to take responsibility for our own actions. Yes, manufacturers try to trick you into buying products by labeling them "healthy" or packaging them to seem good for you. But you don't have to buy them and eat them! Yes, going out to dinner with friends is a wonderful social activity. But you don't have to order french fries and macaroni and cheese! You get the idea. She also talks about how not getting enough sleep or not eating enough fats can contribute to overeating. Lastly, she mentions that most people overestimate the amount of calories burned while exercising. All of these reasons for overeating can be attributed to not educating yourself or not being mindful of your own actions.
Okay, this is starting to sound like a lecture, so let me say, no shout, YOU HAVE THE POWER! Yes, you can take control of your decisions! You are stronger than you think! It takes a lot of will power for me to walk past the boxes of Cheez-Its, but I do. At restaurants I ask for dishes to be made according to my desires. I read labels and avoid pre-packaged foods shouting claims that I know are too good to be true (if it says no fat, you can believe they replaced it with something equally bad or worse). As I have said before, manufacturers are looking out for their bottom line, not your bottom.
Once again my favorite saying comes into play: if you aren't planning to age and be healthy, what are you planning? Once you make the commitment to yourself, you can take the responsibility for not falling into the traps Ms. Kraft mentions in her article. You can do it! Honestly, you do not have to stop eating foods you love or stop going out to dinner. You just have to take a common sense approach and be aware of what you are putting in your body. I have written many posts about exercise, diet, food labels and knowing what approach works best for you (links provided are just a smattering of what I have written on these topics).
My point this week is that it's all about you! Advice is great, but only if you are willing to utilize it on a regular basis. We only get one body. Accept yours, take responsibility for it and enjoy life!
(I do love when she says "you cannot outrun your fork!")
I've got an easy recipe this week. You could use any protein you prefer, adjust the cooking time accordingly.
Roasted Vegetables with Lemon-Pepper Tempeh and Feta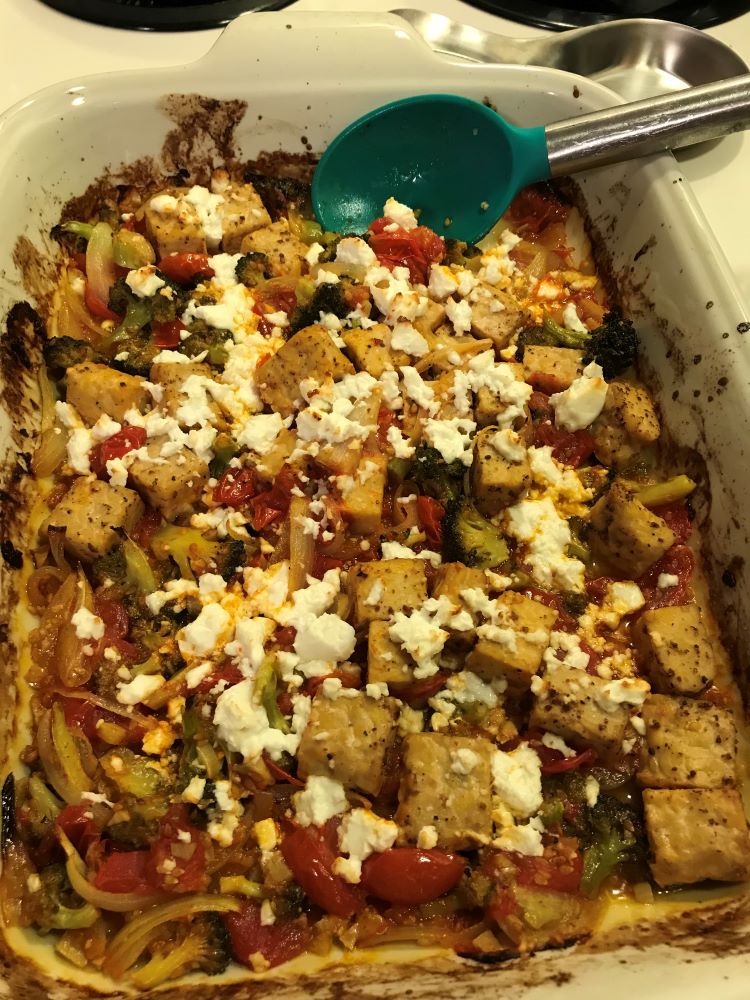 Ingredients:
3 tablespoons olive oil, divided
1/2 tablespoon amino acids (or low sodium soy sauce)
1 tablespoon lemon-pepper seasoning (optional)
1 package tempeh, cut into bite size pieces
2 cups broccoli, chopped into bite size pieces
2 cups tomatoes, halved or quartered depending on size
1 cup sliced onions
3 cloves garlic, minced
Juice from one lemon
1/2 cup feta, crumbled
Directions:
Heat oven to 450 degrees. Spray a 9"X13" baking dish with non-stick spray.

Whisk one tablespoon of oil with amino acids and lemon-pepper seasoning. Toss tempeh in marinade and let sit while vegetables roast.

Toss broccoli, tomatoes and onions with remaining 2 tablespoons olive oil. Spread in pan, top with minced garlic and bake for 20 minutes, stirring once or twice. Remove from oven.

Stir in tempeh and lemon juice. Top with crumbled feta and bake 15-20 minutes longer, until sizzling and bubbly.

Enjoy over greens, pasta, rice, as a pizza topping or by itself!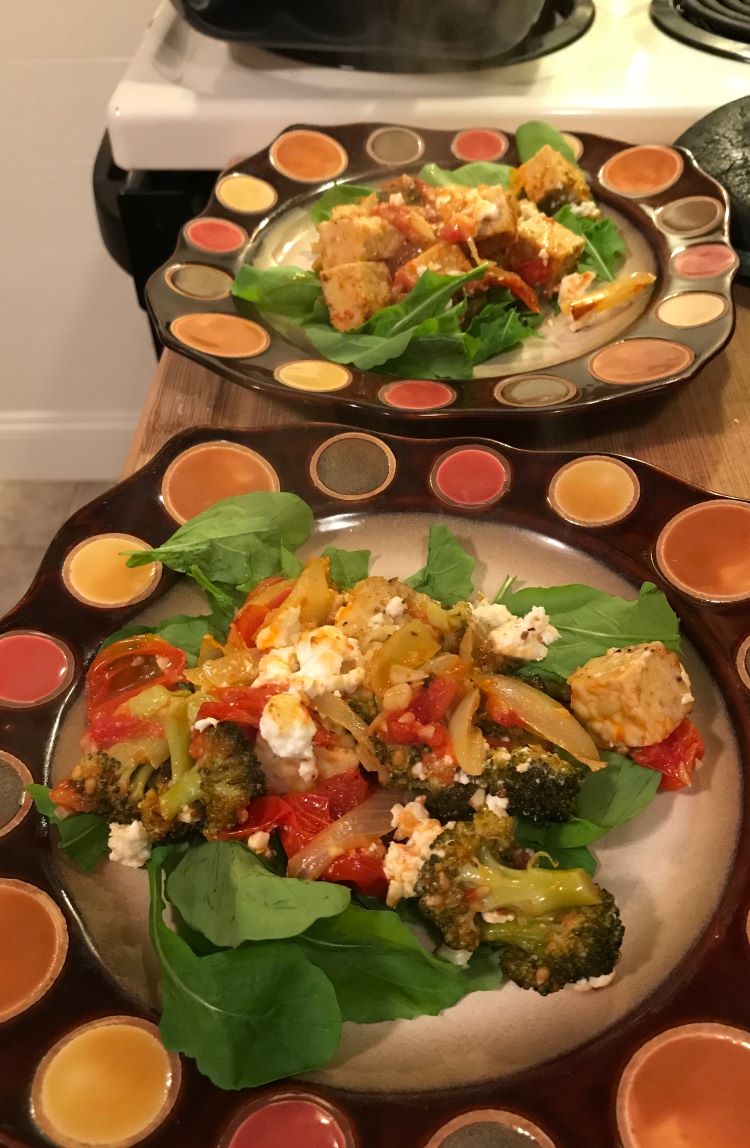 Served over arugula