Ever go to the gym and see the one funny person who is listening to an iPod and dancing to music only she can hear? Yea, that would be me! I try to draw the line at singing out loud since that would clear out the gym. Yesterday I spent some time finding new songs to put on my workout playlist and this morning I enjoyed my time on the treadmill hearing new tunes. To be honest, motivating myself to exercise is not the easiest thing to do, so new music gave me something to look forward to rather than just the same old, same old.
Every once in a while I think it is good to introduce something new to your routine, and I don't mean different exercises (although that is important, it is not my topic this week). Back in May my husband took me to Athleta for my birthday and had me pick out a new workout outfit. It might sound crazy, but I couldn't wait to go to yoga the next day just so I could wear something new. A few weeks ago I got new sneakers. It is amazing how much easier it seems to be to go for my daily jog when I have pretty new shoes to put on. This might sound a little shallow, but it works! This morning we went to the gym because the weather today is cold and rainy (Really! This is July?!). I had my new sneakers on, my Athleta chaturanga pants, and new music. I bopped around, felt great and the hour flew by! Here are some of the songs I was moving to:
All About That Bass by Meghan Trainor
Come Get It Bae by Pharrell Williams
The Sound of Sunshine by Michael Franti & Spearhead
Boom, Boom, Boom, Boom!! by Vengaboys
Dance Apocalyptic by Janelle Monae
These are just a small sample of what I have on my iPod. I don't care what genre of music I listen to, it just has to make me happy. When I hear a song on the radio I like I either use SoundHound to identify it or go to the radio station website and check out their playlist. Songza and Pandora are great to find new or old favorites. I have everything from country (Stuck Like Glue by Sugarland) to oldies (Walking on Sunshine by Katrina and the Waves) to classical (Victory by Bond). I know I might look a little crazy dancing to my own music, but it sure makes it more fun! I even use songs to get in intervals. I will jog for one or two songs, walk for one, jog, etc. I can also convince myself to go for just one more song while I am on the bike or elliptical. After all, I love what I am hearing, so why not keep going?
What do you listen to while working out? Share with the rest of us below!
Once you have worked up an appetite, try this awesome casserole! Last week I had zucchini left over from making the summer vegetable biscuits, so I used it up in this recipe I adapted from Better Homes and Gardens. As always, use your favorite veggies and herbs to make it your own!
Vegetable and Feta Casserole
Ingredients:
1 cup shredded zucchini
1 1/2 cups corn (from 2 ears or frozen)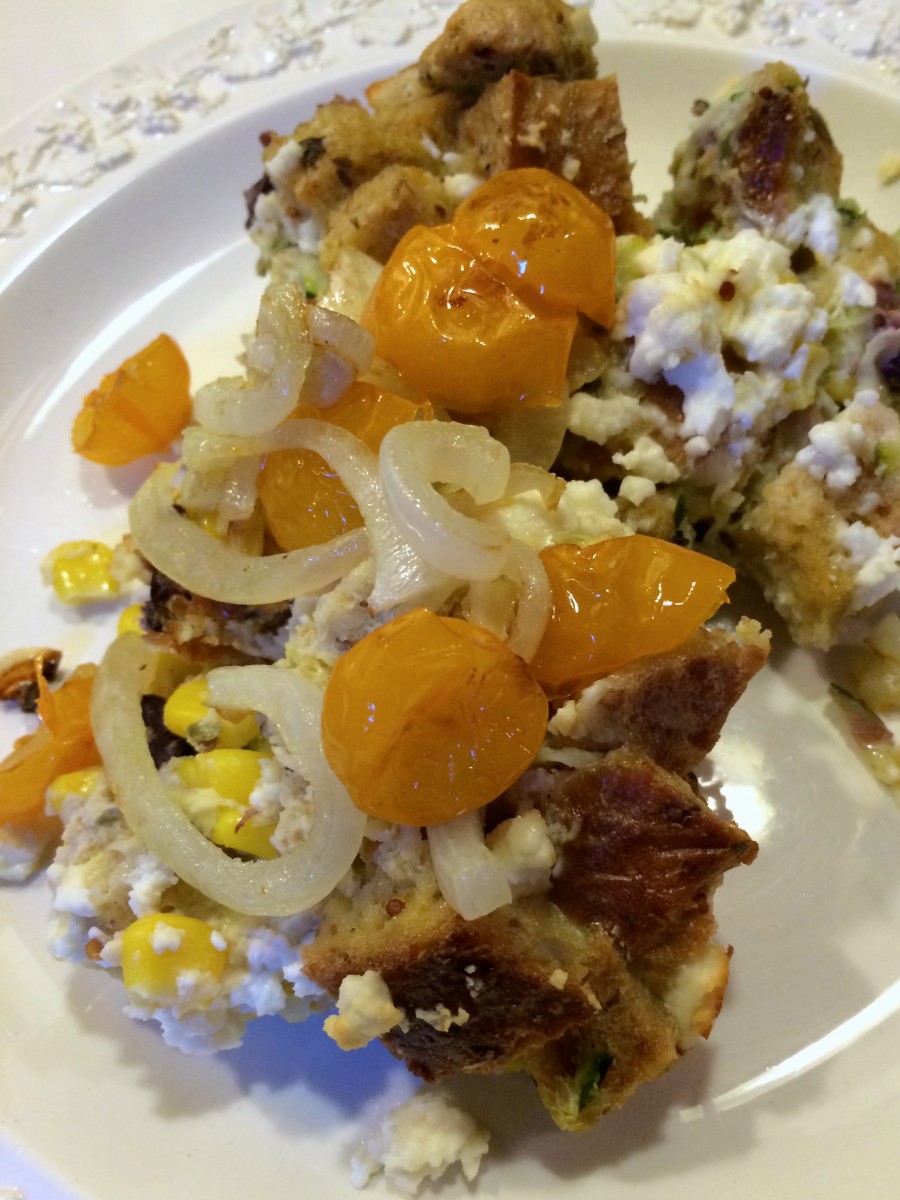 6 eggs
1 cup milk (dairy or non-dairy)
3 cloves garlic, grated or pressed
1 tablespoon chopped fresh basil
1 teaspoon snipped chives
1 tablespoon favorite mustard (I used whole grain dijon)
Salt and pepper to taste
4 cups favorite crusty bread, preferably whole grain, cut into cubes and dried*
2 tablespoons olive oil, divided
1/2 cup pitted & chopped kalamata olives
4 oz crumbled feta
large handful grape tomatoes, halved
1/2 medium onion, sliced
*Dry the bread cubes by leaving them out overnight or placing in a 350 degree oven for 10 minutes, stirring once.
Directions:
Preheat oven to 350 degrees. Spray a 3 qt. casserole dish with non-stick spray. Place grated zucchini in a strainer with a dash of salt. Let sit for 20 minutes. Press as much liquid out as possible.

Meanwhile, in a large bowl whisk together eggs, milk, garlic, herbs, mustard and salt and pepper. Stir in bread and set aside.

Heat 1 tablespoon oil in a skillet and add zucchini. Cook for 5 minutes, or until dry. Add corn kernels and cook additional 5 minutes.

Stir corn and zucchini into bread mixture. Add olives and half the feta, stir well. Pour into prepared dish and top with remaining feta. Place in oven and bake 35-40 minutes, until set.

Meanwhile, place cherry tomatoes and onions on parchment lined baking sheet. Drizzle with remaining 1 tablespoon of oil. Add to oven after casserole has been baking 10 minutes, (you will want to them to be in about 25 minutes), stirring once halfway through.

Remove casserole and vegetables from oven, let stand 5 minutes. Spoon tomatoes and onions over casserole and serve.

Enjoy!