Last week I shared tips that I use in the kitchen to make cooking more efficient or tasty. One very important tip I realized I should share is one we hear all the time: read a recipe all the way through before starting. This became an issue for me this week when I was making a recipe for Homemade Seitan Hot Wingz. I did read the recipe but didn't take the time to make sure I fully understood the directions. Usually I read the ingredients to ensure I have them and then skim through the steps. If I had been paying better attention I might have caught the mistake BEFORE I started mixing. See if you notice it:
2. In a food processor, place the mushrooms, onion, and garlic. Process until they are finely chopped. Then add the oil, sage, salt, and water and continue processing into a smooth paste. Finally, add the gluten and process it into a smooth dough. Add the water, a couple of tablespoons at a time, only if it's needed.
Find the mistake? It says to add the water twice. Well, I ended up with a very wet mixture because I added the water when it was mentioned first. There was even a note at the end of the recipe advising to avoid a too-moist dough as the final product would be too soft. I managed to save it by adding extra gluten and a little flour, but it was a good lesson! This isn't the recipe I wanted to share this week, but if you are interested you can find it here.
I want to share some more tips this week. These fall into the category of tools or equipment to have on hand:
Use an apron. Mom did know best! I have saved many an outfit by wearing protection. I have several so I can wash them often and still have one to wear.

Keep your towels and sponges clean! No one likes to spread germs and believe me, a home kitchen can be pretty yucky! I use sponges that I can launder and change them out every day. Same with my towels.

A box grater is an awesome piece of equipment. You can shred vegetables, slice potatoes, grate garlic or onions and even use it for cheese!

A food processor is amazing as well. It can make quick work of chopping vegetables, forming dough, creating pesto or hummus, mashing beans, making nut butter, etc.

Have two kinds of cookie sheets: some for baking and some for roasting. I keep my baking sheets looking as close to brand new as possible. My roasting pans are a bit more broken in with a lot of dark spots and some baked on stuff. I know, gross, right? I put parchment or foil down and then don't worry about spills or other guck. Eventually the good baking sheets will get transferred to roasting and the old roasters will get recycled. It happens.
Your turn again! Have any tips to share?
The calendar says summer is here, even if the weather doesn't always cooperate. So that means lots of salads! Here is one I made last week with a Greek flair. Yum!
Greek Salad with Avocado
from foodiecrush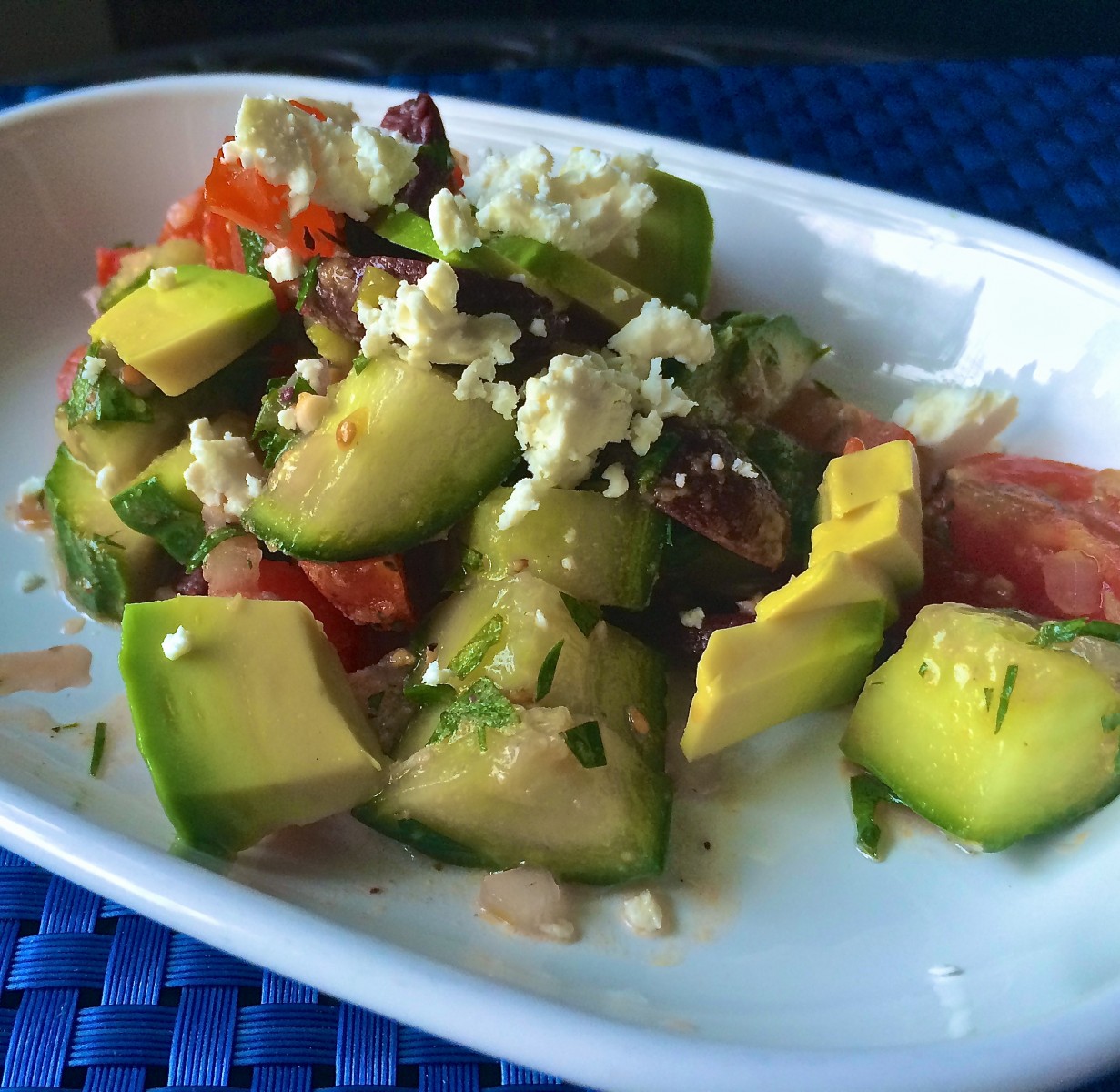 Ingredients
2 English cucumbers, peeled in stripes and cut into 1/2 inch slices
1 1/2 pounds small tomatoes, chopped
1/2 red onion, thinly sliced
1 1/2 cups kalamata olives, pitted and halved
1/4 cup Italian flat leaf parsley, chopped
2 avocados, pitted and cut into chunks
1 cup feta cheese, broken into large chunks

1/2 cup extra virgin olive oil
1/2 cup red wine vinegar
2 cloves garlic, peeled and minced
1 tablespoon oregano
2 teaspoons sugar
1 teaspoon each of kosher salt and freshly ground black pepper
Instructions
1. In a large serving bowl, combine the cucumbers, tomatoes, red onion, kalamata olives and parsley. Place the avocado in a small bowl and set aside.
2. In a small, airtight container, combine the olive oil, red wine vinegar, garlic, oregano, sugar and salt and pepper. Top with the lid and shake well until blended and emulsified. Season with more sugar and salt and pepper to taste.
3. Pour 1 tablespoon or so of the dressing on the avocado and gently mix to coat. Pour the rest of the dressing on the cucumber mixture and toss to coat. Add the avocado to the salad and top with chunks of feta cheese, and serve.
As the salad sits, the juices from the vegetables will release, adding to the amount of dressing. If you prefer, reserve some of the dressing and add only if needed for more moisture.