I read a comment recently by a fellow blogger about spring being a better time to make "resolutions" than January 1st. I agreed because it seems the perfect time to set some new goals as we wake up from a VERY long winter. (Seriously, 15 inches of snow last week! Come on, Mother Nature!). I have to believe spring will come and this is the perfect opportunity to clean out some closets and cupboards, especially if the weather is still keeping us hunkered down in our houses!
When I was packing for Florida a couple weeks ago, I started pulling out some of my favorite warm weather clothes that I haven't seen in well over six months. It is like going shopping in your own closet. It doesn't cost anything and you get to wear "new" outfits. I have to admit there is a bit of anxiety as I put on a pair of shorts or pants that I wore last year and hope they will still zip up. With a winter like we have had, indulging in comfort food became a little too frequent of a habit! They all fit, though, so I was good to go. Now that we are home I am going to spend an afternoon pulling all my clothes out and sorting through what will stay and what will be donated or consigned. Many of you consider this only slightly more fun than getting a root canal, but I love it! After I do my closets I move to my kitchen (on a different day) and do the cupboards, getting rid of any old spices, donating any canned goods I don't think I will use and thinking of recipes to make with other products I still want to use. Yep, this is what I think of as fun!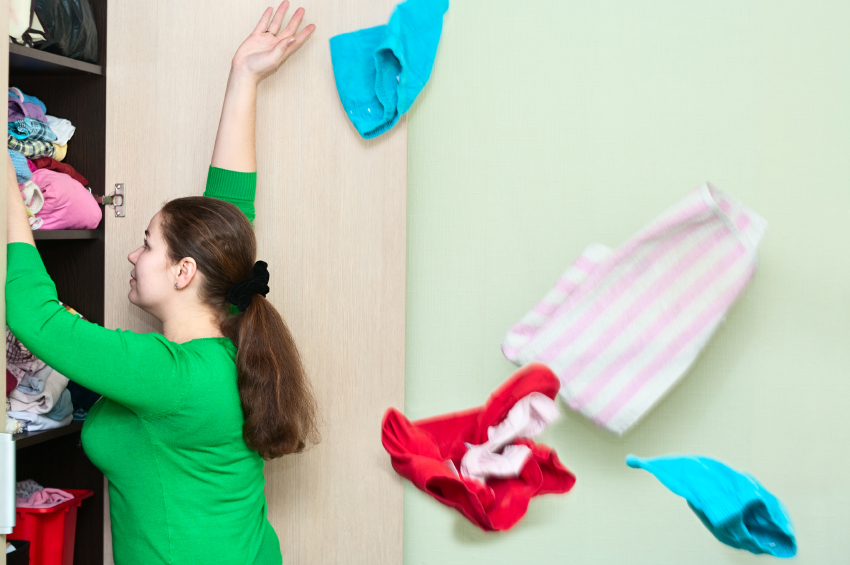 After I finish with my closet I head to the consignment store and bring in what I think will be accepted and I check out what other people have cleaned out of their closets. I love shopping this way. I have bought many name brand items for dirt cheap, some with the tags still on them! A purple, Talbots blazer for $15. J. Crew jeans for $8. Athleta cords for $10. Calvin Klein pants for $12. A spin through the wash or a trip to the dry cleaners and they are ready for me to wear. Even a trip to the mall this time of year can yield amazing bargains. Yesterday I picked up a pair of awesome blue, Land's End ankle pants on clearance for $13.50. I can wear them with short boots and sweaters now and transition to warm weather (it has to come, right?) easily by switching to flats and blouses.
Yep, I LOVE to organize and shop! That is why I love my job! Remember, if anyone would like my help with either of these tasks, let me know! A fresh set of eyes on your "chaos" might be exactly what you need to get ready for spring. If you like to do it yourself, the best advice I can give you is to set a goal and focus on one area at a time. You will make a huge mess before it gets put back together, so make sure you have enough time to get it all done. Then sit back and admire the streamlined beauty of your newly organized closet or cupboard!
This time of year is when I start craving the spring vegetables that will be showing up at the Public Market soon. Asparagus and peas anyone? Until then, I have been loading up on salads made from fresh, hydroponic greens grown locally. This is also a great way to get ready to try on those clothes from last year! I top my salads with enough to make them meals. I use many vegetables, such as carrots, cucumbers, celery, green beans and peas and then add a few canned beans, nuts, seeds, avocados and dried fruit (cherries, raisins, etc) to top it off. I rarely buy pre-made dressings because it is so easy to make your own and you can avoid all the preservatives and hard to pronounce ingredients manufacturers put in their products. Here are a few of my favorites.
All dressings are courtesy of Food Network Magazine.
Lemon
Whisk 2 tablespoons lemon juice, 1 tablespoon Dijon mustard, 1 teaspoon lemon zest, 1/2 teaspoon sugar, and salt to taste. Gradually whisk in 1/4 cup each, vegetable oil and olive oil.
Roasted Red Pepper
Make the Lemon dressing in a blender or food processor and add a jar of roasted red peppers and 1 teaspoon minced, fresh rosemary.
Light Caesar
Blend 1/2 cup nonfat Greek yogurt, 2 tablespoons grated Parmesan, 1 tablespoon each olive oil and water, juice of 1 lemon, 1 garlic clove and 1 1/2 tablespoons of capers (or 4 anchovies) in blender or food processor. Add fresh ground pepper to taste.
Poppy Seed
Cook 1/2 tablespoon poppy seeds in a dry skillet, 1 minute; transfer to a bowl. Whisk in 3 tablespoons cider vinegar, 1 tablespoon honey, 1 teaspoon Dijon mustard and 1/4 teaspoon kosher salt. Gradually whisk in 1/3 cup olive oil.