When I tell people I am vegetarian one of the first questions I get asked is how do you get protein? I covered this topic in one of my very first blogs, What do I Eat? As I read back through what I wrote I found that my eating habits are still pretty similar but I have learned a little more about how I can get protein in my diet.
Protein is an important part of a nutritious diet. It provides our bodies with fuel which gives us energy to be active, it helps build and repair muscles, it boosts immunity and it helps us feel full. Basically, it is a crucial aspect of life. How much protein do we need? The answer to this is it depends on your age, your activity level and your weight goals. The RDA is .36 grams per pound of body weight. For a woman who weighs 150 pounds, this means about 54 grams (the formula is the same for men). If you are very active, (you work out at least 30 minutes, four or five days a week at a moderate to heavy level), older than 50 or are trying to lose weight you need more. In all of these instances you need roughly twice as much as the RDA, or between 80-110 grams daily. A typical American diet (one that includes meat) provides more than enough daily protein.
That brings me back to the question I get asked about how I get protein. Most people think the only way to get protein is to eat red meat. They may also know that soybeans, lentils, beans and nuts all are good sources of protein . Surprisingly, though, few people know that even broccoli and pasta have some protein as well. Peas, quinoa, spinach, oatmeal, seeds and avocados can all add protein to a recipe. In other words, you can get plenty of protein without eating meat. (This link is to an article that lists 20 plant based foods with the highest protein.)
My confusion does not comes from how to get protein but from figuring out how much protein I am eating. Is it enough? I hate to measure or weigh my food. I always end up back at my favorite saying from Michael Pollan: "Eat food. Not too much. Mostly plants." I like to add the following to that: eat food made from plants, not made in a plant. If I eat enough to be full and I have enough energy to get through the day I feel good. I aim to include some protein in every meal and snack. I can easily add some chia seed or sunflower seed butter or beans or peas to almost anything I eat in order to boost the protein and feel full by eating real food. One of my favorite snacks is to cut up an apple or pear and add a smear of nut butter or a thin slice of cheese. Hummus is a great addition to sandwiches or even as a base for pizza. A handful of roasted walnuts on pasta is delicious. Toasted pumpkin seeds sprinkled on soup adds flavor and texture.
My message this week is if you would like to cut back on the amount of meat you are eating but are afraid you will not get enough protein or you will be hungry, you don't have to load up on tofu! Just eat real food!
This week's recipe uses one of my favorite fall ingredients: sweet potato! Make it your own by using different seasonings or toppings.
Shredded Sweet Potato and Caramelized Onion Sandwich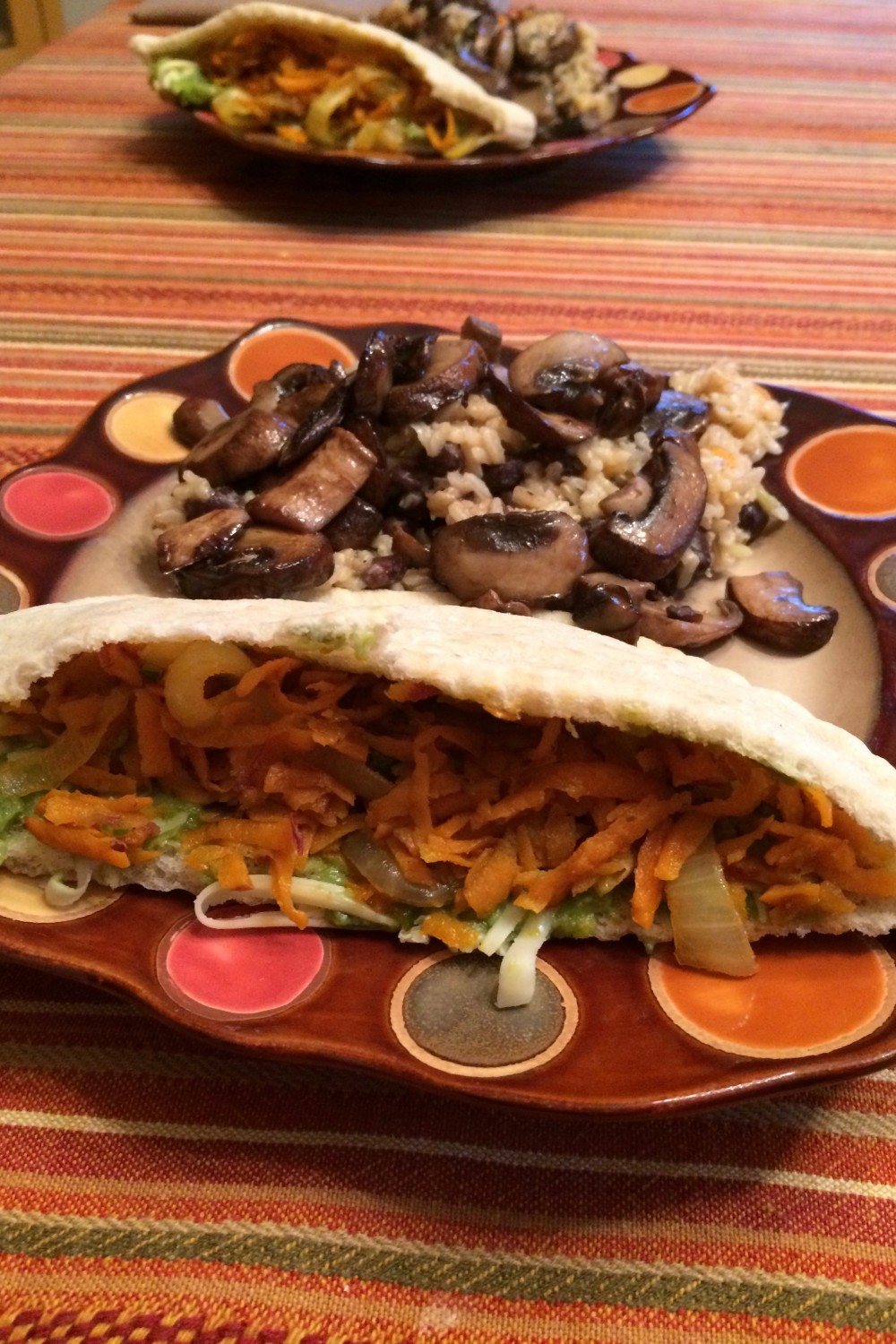 Ingredients:
1 tablespoon olive oil
1 small onion, sliced
1 clove garlic, minced
2 cups shredded sweet potato (from one medium potato, peeled if preferred)
1/4 teaspoon smoked paprika
1/2 teaspoon cumin
Salt to taste
4 whole wheat pita pockets slit open (or bread of choice)
Prepared guacamole
4 leaves lettuce
1/2 cup shredded cheddar
1/4 cup pepitas (toasted pumpkin seeds)
Directions:
Heat oil in saute pan over medium high heat. Add sliced onions. Stir to coat with oil and then let cook for 5 minutes or until you see them starting to brown. Stir and lower heat to medium. Continue to cook, stirring occasionally, until onions are soft and fully caramelized. Add garlic and cook for one minute. Stir in sweet potatoes, paprika and cumin and cook for an additional 5-8 minutes, until they have softened and are starting to brown. If they stick to bottom of pan, add a splash of water to deglaze the pan, scraping up bits of browned potato.

Meanwhile, spread guacamole in each pita. Stuff with a lettuce leaf and cheddar.

Carefully fill each pita with the sweet potato and onion mixture. Top with pepitas.

Enjoy!
*I served our sandwiches with a side of brown rice and sauteed mushrooms.