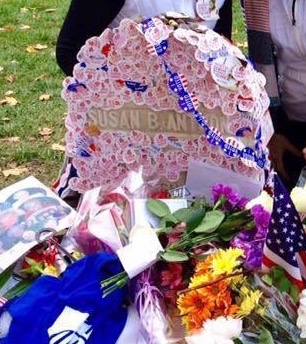 Susan B. Anthony's grave on November 8, 2016
It has been a tough week for our country. So much negativity has taken a toll on many people, myself included. I feel the country is on the edge of a precipice and no one is sure whether we will crash and burn or rise to the challenge. Our new president has a daunting task ahead of him. But, as President Obama said, Trump's success means America succeeds, so we have to hope for the best.
Telling myself that does not seem to make the sick feeling in the pit of my stomach go away. In all the years I have been voting I have never had so much trouble getting past the campaign process. I have avoided all social media and news reports since last Tuesday. There is too much coverage of some people gloating, some protesting and others attacking fellow Americans. I have taken this time to try and heal myself. By focusing on me I am hoping to find the strength to turn my negative feelings into positive action. I have done a lot of reading, exercised everyday and spent time with friends.
I keep reminding myself this country is full of good people, no matter how they voted. If there are enough of us who stand up for each other and support all people living in this great country, I have to believe our collective positivity will overcome those who think otherwise. To this end I am contemplating participating in the Million Women March on January 21 in Washington, DC. This is a chance to make sure elected officials know there are millions of people who are going to be fighting to ensure women's rights are always being taken into consideration. I will also continue to work with the charity guild that I am a member of to help raise money for various worthy causes. (December 7 is our Holiday Boutique! If you live in Rochester and would like a ticket, let me know!) I am also looking forward to getting involved in a new-to-me charity, Dress for Success, that provides work appropriate clothing to less fortunate women.
I will continue to heal from last week and I sincerely hope our country comes out stronger than ever.
And what is more American than barbecue? This week's recipe is a result of trying to buy a barbecue sauce that I liked that was not too sweet or too hot or too vinegary and having no luck. There are a lot of ingredients, but it comes together quickly. I have used it as a dip for roasted potatoes, simmered tempeh or seitan to make sandwiches and as a topping for veggie burgers. I like a lot of smoky flavor, but you can tone it down by adding less smoked paprika and omitting the smoked olive oil. Also, adjust the heat level to your liking by adding less or more hot sauce or chipotle pepper.
Barbecue Sauce
makes approximately 1 1/2 cups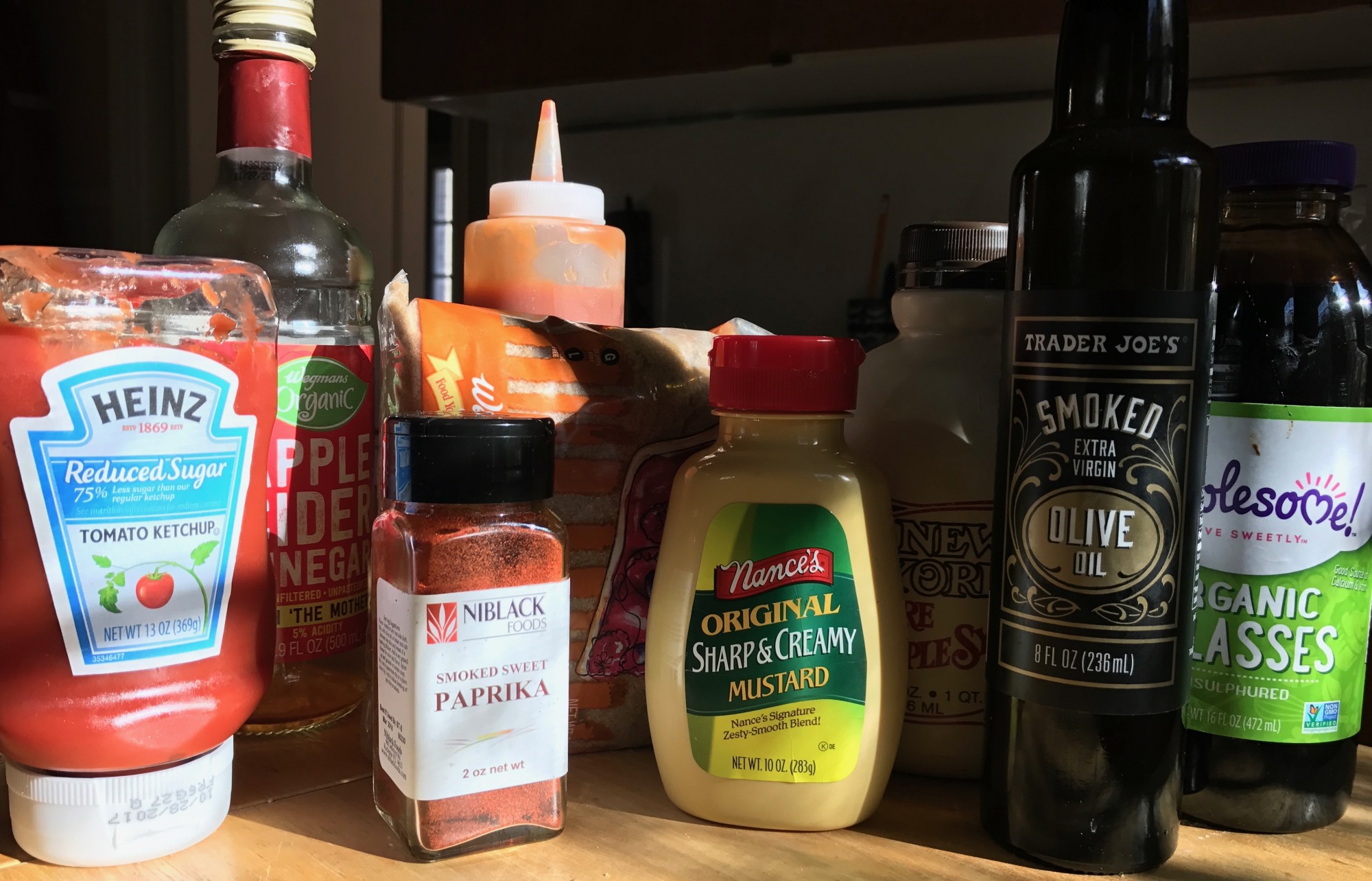 Ingredients:
Scant 1/3 cup apple cider vinegar
1/3 cup ketchup
3 tablespoons brown sugar
1 1/2 tablespoons molasses
1 tablespoon pure maple syrup
1/2 to 1 tablespoon favorite hot sauce (adjust according to desired heat)
1/2 chipotle pepper, minced (optional)
2 tablespoons Nance's mustard
1/4 to 1/2 teaspoon smoked paprika (adjust according to taste)
1 teaspoon smoked olive oil (optional)
Directions:
Combine all ingredients in a medium sauce pan. Place on medium-high heat and bring to a soft boil. Reduce heat and simmer for 10-20 minutes, until sauce thickens.

Use immediately or refrigerate in an air tight container for 1 week.