I grew up in a family that loves potatoes. My mother never met a potato she didn't like. We ate them mashed, fried, baked, diced, hashed, scalloped, in soup, as a side dish and a main dish. There was a potato field behind our house and the farmer gave us permission to collect any potatoes he missed after he harvested. My sister and I would go out and get handfuls for my mom to use for dinner. This was my first experience getting food directly from the garden straight to the table. As my mother was preparing them she would sometimes give us a chunk of raw potato to eat. Don't knock until you try it! My mother grew up on a farm. My grandfather had acres of land that he used to grow corn, potatoes, rhubarb, onions, tomatoes, peppers, etc., and as the oldest daughter, my mother was expected to help cook for the family. She learned how to make food go a long way since there were 10 people to feed. One trick was to use potatoes since they were cheap and filling. A favorite dish to make was hash. Sauté onions, brown ground beef and throw in a lot of diced potatoes and dinner is served.
Like so many foods, potatoes have gone through many studies that have shown them to be bad for you to not so bad to good for you. It really can make your head spin. This article gives recent information about why potatoes are a good addition to any diet as long as you eat them in moderation and avoid high fat toppings or eating them if they are deep fried. Sounds familiar, right? You should follow those rules for any foods you eat.
Are you wondering why I am writing about potatoes? Thanksgiving was last week and when my family sat down for dinner we had a huge bowl of mashed potatoes on the table. We didn't eat them all so we had a lot of leftovers. The great thing about potatoes is you can mix almost anything with them and it will be delicious. When my husband invited company over for dinner the day after Thanksgiving I opened the fridge and took stock. I had leftover garlic and cheese dip from the appetizers we served, as well as vegetarian gravy made with mushrooms and mashed potatoes. Just like my mother used to do, I used the potatoes to create a filling and delicious dinner. This week's recipe is what I came up with.
Mashed Potato and Garlic Dip Patties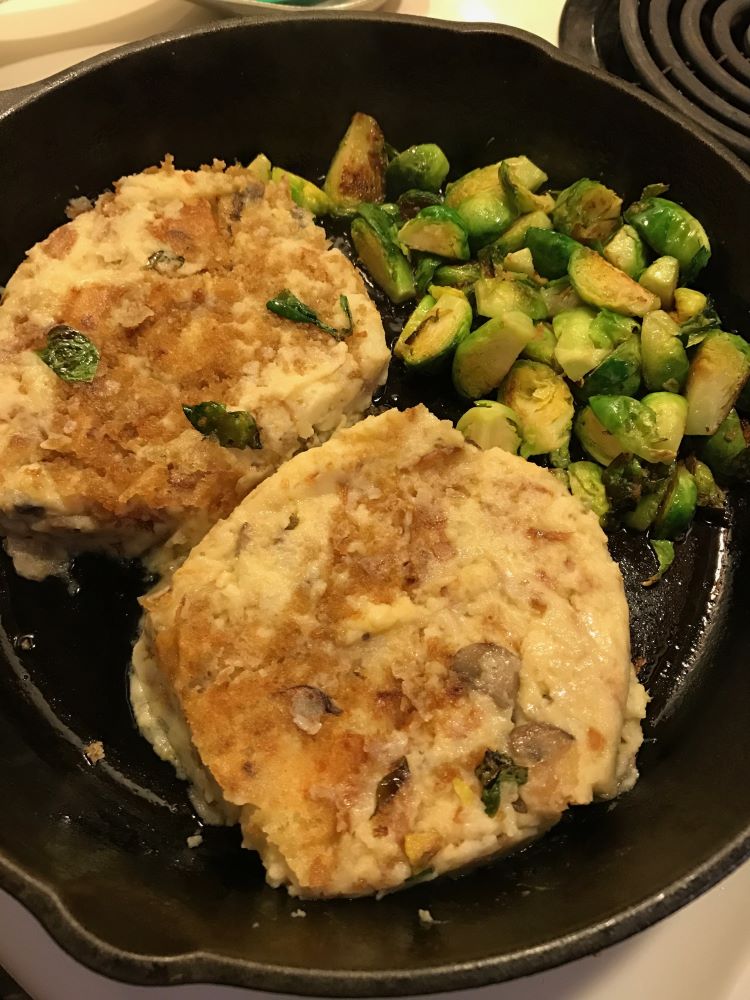 Ingredients:
2 cups leftover mashed potatoes
1/2 cup leftover garlic and cheese dip (use any similar dip such as artichoke, onion, vegetable or even hummus)
1/4 cup leftover gravy
1 egg, lightly whisked
1/2 cup whole wheat panko bread crumbs
2 tablespoons oil
Directions:
Mix potatoes, dip, gravy and eggs in a large bowl. Divide into four equal portions and form into patties. Divide the bread crumbs into four equal portions and lightly press into both sides of each patty.

Heat oil in a large non-stick or cast iron pan over medium. Carefully place each patty in and cook for 5-8 minutes, until breadcrumbs crisp and brown. Carefully flip each patty (I use two spatulas to help do this). Cook an additional 5-8 minutes until patties are hot through and second side is browned and crisp. Serve with additional gravy, if desired or available.

Enjoy!