The best thing I read last week was about a woman who saw a need for shoes that are easy to get on and off if the wearer has a brace on. She took an ordinary shoe, cut it in half and installed a zipper. Brilliant! That isn't the best part of the story, though. She created these shoes for her husband who had a stroke. Word spread and now she creates them for people who find her, usually through word of mouth, free of charge! She knows first hand the challenges of dealing with disabilities and enjoys helping make life a bit easier for others.
The world needs more people like this. It is so easy to get wrapped up in our own world. Honestly, there is nothing wrong with that. However, it is good to peek out once in a while and see what is happening in other people's worlds. Sometimes it will make you laugh out loud (did you hear about the cat who escaped its carrier and was on the loose at JFK airport for a week?) Sometimes it will make you shake your head (did you hear about the man who ate 30,000 big macs)? Sometimes it will make you clap and cheer (refer to first paragraph). Sometimes it will make you want to run back to your own world (anything relating to politics will do this). But the bottom line, for me, is we are all in this together. It's okay to pay attention to yourself and your own life, but don't forget to be open to learning about others. So often we want to only watch or connect with news that fits our own agenda or beliefs. This leads to more polarization and extreme points of view because we never open ourselves up to what others are thinking or feeling. Meanwhile, there is a woman who is making shoes for free for people who need them. I like to think she does not care what a person looks like or who they voted for, only that she can provide a much needed shoe.
One of my favorite Christmas songs has the following lyric:
If you want to arrange it
This world, you can change it
If we could somehow
Make this Christmas thing last
By helping a neighbor
Or even a stranger
To know who needs help,
You need only just ask.
(From Old City Bar by Trans Siberian Orchestra)
Go ahead and take a peek outside your world and see if you can lend a hand to someone or be open to seeing the world from a new perspective.
Going along with the idea of getting out of your own world, have you ever tried ramps? They are only available in the spring and cannot be cultivated. They only grow wild. They are in the onion family and are great sautéed in pasta dishes or as a side. I love to make pesto out of them. This freezes well, which is good since I can only make it in the spring. I posted another version of this a couple of years ago. This is a little different, as it is vegan.
Ramp Pesto
1 bunch ramps, cleaned and trimmed
1 bunch parsley, cleaned and thick stems removed
1 garlic clove, minced (or more if desired)
1/4 cup olive oil
1/4 cup roasted pistachios
1/4 cup nutritional yeast
Add ramps, parsley and garlic to a food processor. Drizzle oil over and process until pureed. (You may need to add more oil to get desired consistency.)

Add pistachios and pulse a few times until chopped and incorporated.

Add nutritional yeast and use until mixed in.

Enjoy over pasta, as a sandwich spread, added to soup or whatever your imagination comes up with!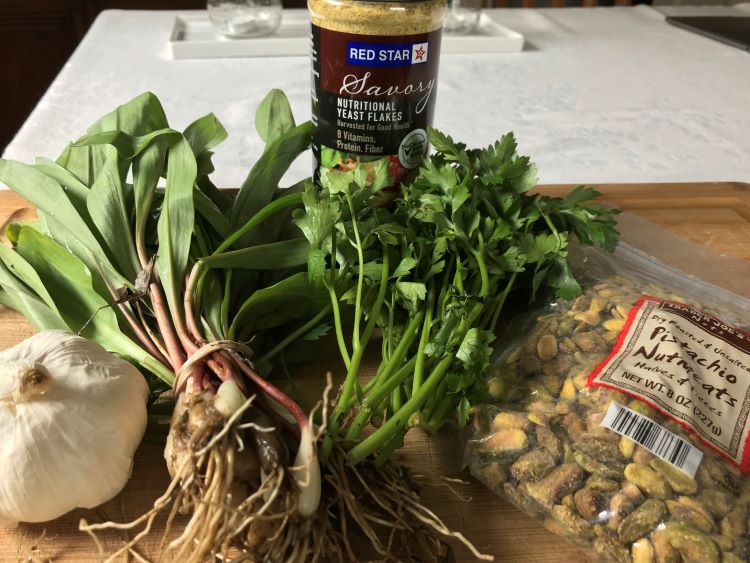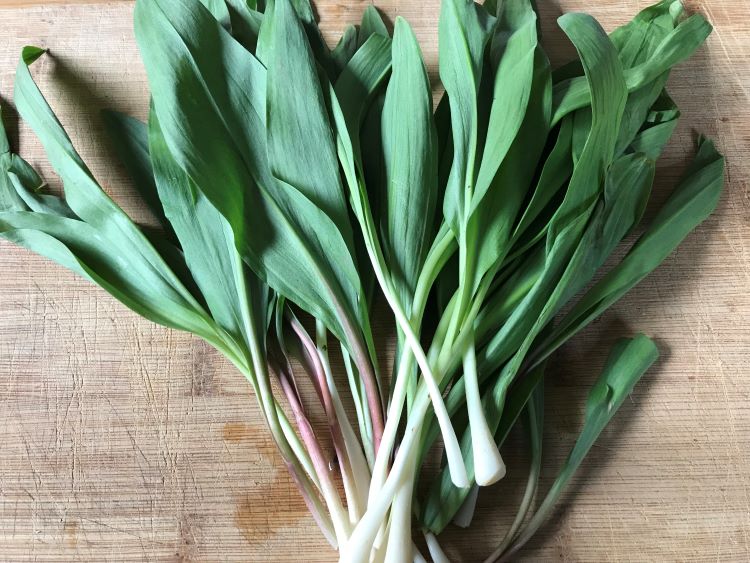 Washed and Trimmed Ramps