Budget. That is a nasty word this time of year! So many presents, hostess gifts, parties, restaurants, etc., before you know it, your credit card is worn out and your wallet is looking like a well worn pair of jeans. I am not an expert accountant or financial advisor, but I do like to shop (seriously, ask my husband) and I have a few tips that might help.
If you are shopping on line, make sure you check out the website, retailmenot.com. It is chock full of coupon codes that may get you free shipping, discounts and more. This is especially helpful if you are shopping for a gift from a retailer you do not usually use and you do not want to sign up for email blasts. Also, ebates.com is a great resource. This site offers money back on every purchase. You simply chose your store, ebates will tell you what percentage you will get back and if there are any promotions available, you click on the link and shop. The site tracks how much you will get back and cuts a check a few times a year. Last Christmas I received $15 back. Not a lot, but it paid for tax and shipping on a few items. If you do a lot of online shopping I highly recommend using this site.
In stores I always head for the clearance racks. This time of year many stores are offering extra percentage off on their already marked down items. And if you want to shop after Christmas, they just about pay you to take the merchandise off their hands.
Lastly, do not pooh-pooh thrift and consignment stores. If you have the time to look through racks you can find amazing deals. I love to see the look on people's face when they compliment something I am wearing and I tell them I thrifted it for $5 or less! This is especially true for coats. I have found some awesome winter coats and blazers from brand name stores that cost less than $15. (Just be sure to launder or dry clean before wearing.) I have even found some great art work. Nothing to take to Antiques Roadshow, but I like it and it does not look like the cookie cutter art you buy at Target.
One last tip if you are a wine drinker. Check out winestilsoldout.com. It is a flash sale site for wines and the savings are amazing. They offer one wine at a time, free shipping based on a certain number of bottles ordered (usually 4) and when the wine is gone they offer another. The wines could change every hour or every 15 minutes, depending on how quickly it sells. I have seen $50 bottles of wine selling for $20 and $150 bottles selling for $50. As I write this they are featuring a red blend from Portugal, retails at $80, their price, $25. They have a great app that allows you check the wines offered easily and frequently. I buy a lot of my wine through this site.
This week's recipe is super easy and the perfect dish to bring to a party. Everyone who eats these nuts loves them! Once you bring them your friends will ask you to bring them to every party.
Rosemary Chili Roasted Nuts
based on recipe from Nigella Lawson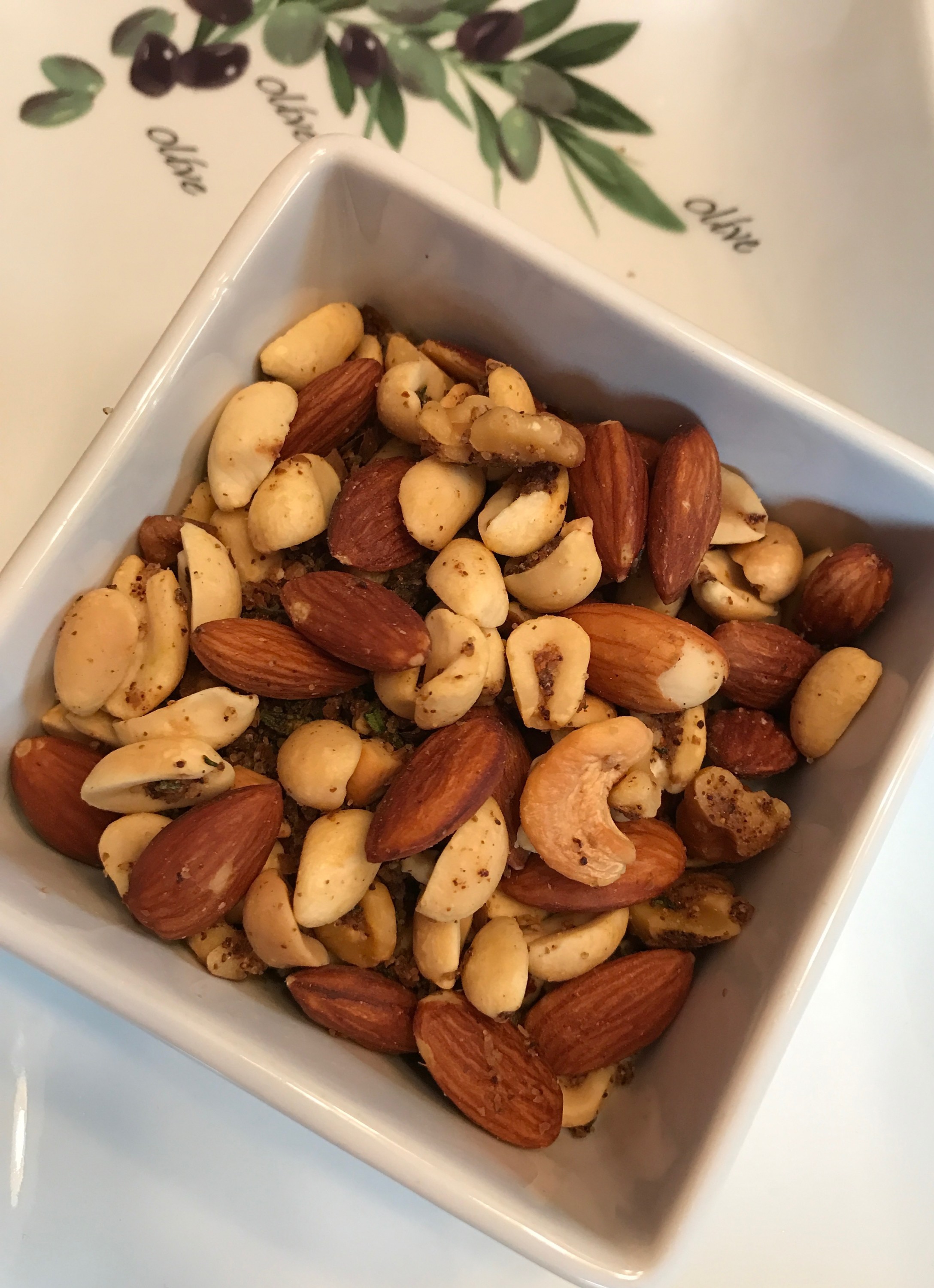 Ingredients:
3 cups mixed nuts (I go to the bulk section and buy raw nuts, usually almonds, cashews, walnuts and pecans. Feel free to use unsalted, roasted nuts)
1 tablespoon chopped, fresh rosemary, or more if desired (I love rosemary, but I find it can become overpowering very quickly)
1 teaspoon chili powder, or more if you prefer spicy
1 tablespoon brown sugar
1 1/2 tablespoons butter, melted
1 1/2-2 teaspoons sea salt (less if you use salted butter)
Preheat oven to 350 degrees

Toss nuts together in a large bowl and then spread out on a cookie sheet. If you are using raw nuts, roast them for 10-20 minutes, stirring every 5 minutes, until they appear toasted. The cashews are good to watch because once they start getting golden, nuts are done. If you are using nuts that are already roasted, bake them for 10 minutes, stirring once, until they are warm and toasty.

Meanwhile, mix rosemary, sugar, chili powder, and salt in large bowl nuts were in.

Remove nuts from oven and place in bowl with rosemary and chili powder. Pour melted butter over top and mix well. Allow to cool but serve warm.

Enjoy!
*I often add peanuts to my mix. Since I buy them already roasted I add them to bowl with rosemary and chili powder and pour hot roasted nuts over the top. This warms them enough to allow the yummy spices to stick to them.