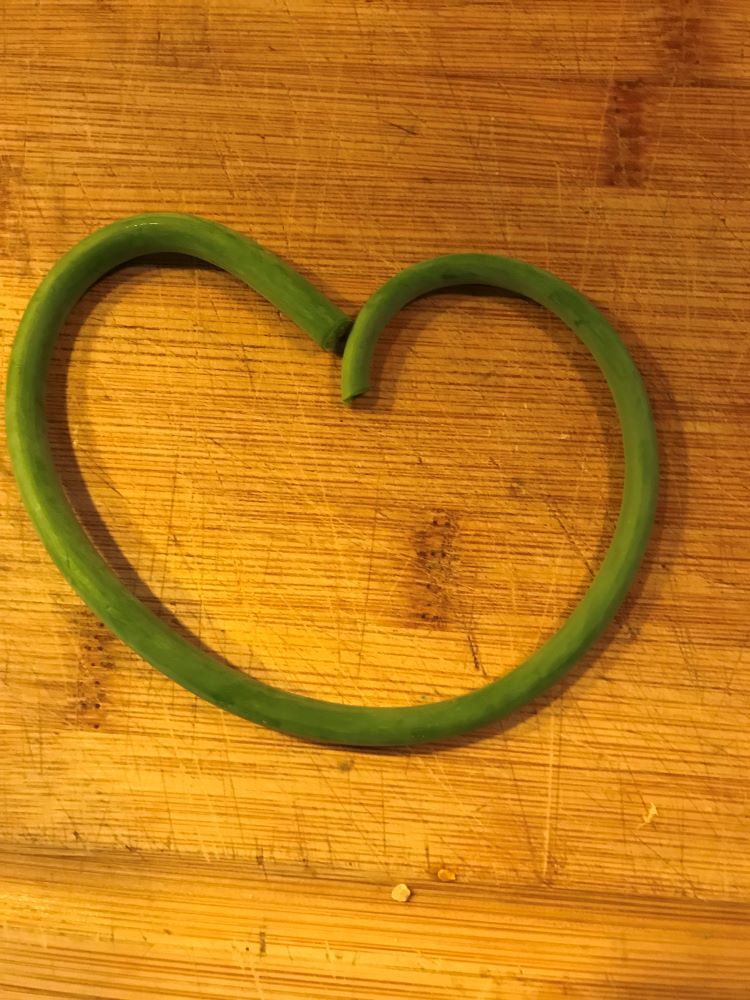 I've been thinking a lot about a recent article I read. It had to do with encouraging teenagers, a topic I do not usually find of interest since I do not have any teenagers. However, the title drew me in: Want to Encourage your Teen? Avoid This One Key Word, by Eva Dwight. One word? Really? That's all you need? Then I read the article and realized it is a lesson not only for teens but for everyone!
A few years ago a young adult I was with was talking to a friend of mine who asked her if she was going to school. She replied, "I'm just going to MCC." (MCC is a local community college.) My friend quickly jumped on that word "just". She explained that by choosing to go to college, any college, the young adult was taking steps towards a great future. By saying, "just MCC" she was diminishing her accomplishment and she should not have been selling herself short. I've often thought of that conversation and when I saw the article I began thinking how often we devalue ourselves when we use that one word, just. Whether it is when we define our role, "I am just a secretary" or our relationship, "I am just his wife" or our activities, "I am just doing yoga," by qualifying these with the word "just" it makes it seem we are somehow less than someone else. I think we are so sure we are going to be judged and found lacking that we try to be too self deprecating.
The reality is, if someone is judging you then that person is the one with the problem. We cannot control anything but our own actions and thoughts. Why not take complete ownership of them and stand proud and say "I AM a secretary," "He is MY husband," "I AM doing yoga!" Have the confidence to talk about yourself with a positive attitude and you might enjoy how empowered you feel!
Ms. Dwight suggests a great way to get yourself to start thinking about how important we are to ourselves and our families. At the end of each day, recall three things that went right. This is similar to a gratitude journal. It could be you finished a project at home or work. Or you prepared a delicious dinner. Or you got the laundry done. Or you gave someone a hug. Or you went for a walk. You get the idea. Trying to live our lives by comparing ourselves to others will leave us with the attitude that we are just not enough. Instead, live for yourself and your loved ones. Be kind to yourself and others. That's just enough!
This week's recipe is just delicious!
Taco Salad with Avocado Lime Dressing
Ingredients:
1 tablespoon olive oil
4 cloves of garlic minced or grated or pressed
1/2 tablespoon chili powder (more or less to taste)
1/2 teaspoon cumin (more or less to taste)
1 tablespoon tomato paste
1/2 cup quinoa, rinsed
1 cup water
1 can black beans, rinsed and drained
Corn shaved from 2 ears or 1/2 cup frozen, thawed.
4 corn tortillas cut into triangles
Enough lettuce to make 4 salads, your choice for greens
Your choice for toppings: tomatoes, cucumbers, carrots, radishes, avocado, corn, shredded cheese, peppers, etc.
Dressing ingredients:
Juice from two limes
1 tablespoon good olive oil
1/2 medium large avocado
1/4 cup packed cilantro or parsley
1 small jalapeño, seeded and deribbed if desired, coarsely chopped
1/4 teaspoon garlic powder
salt to taste
Directions:
Preheat oven to 375. Line two cookie sheets with parchment.

In a large sauté pan heat oil. Add garlic and cook until starting to brown, 1-2 minutes. Stir in chili powder and cumin and cook for another 30 seconds. Add tomato paste and cook one more minute, stirring constantly. Add rinsed quinoa and cook for 1 minute, stirring constantly. Stir in water and raise heat to bring to a gentle boil. Cover pot, reduce heat and allow to simmer 15-20 minutes, until water is absorbed.

Remove pan from heat and set aside, still covered, for 5 minutes. Uncover, fluff with fork and stir in black beans and corn. Cover to keep warm.

Meanwhile prepare tortilla chips. Place triangles on prepared cookie sheets and spray lightly with cooking spray and sprinkle with salt. Bake for 7-8 minutes, until starting to crisp. Remove from oven, flip and spray again. Bake an additional 5-7 minutes until brown and crisp. Keep an eye on them! They may need more or less time and they will burn quickly!

To make dressing, add ingredients to a small food processor or blender, being sure to add liquids first. Process until smooth. If it becomes too thick or tart, add some water, a tablespoon at a time until perfect for your taste.

To make salads, distribute greens among plates. Top with quinoa mix, your choice of toppings, crumbled tortilla chips and dressing.

Enjoy!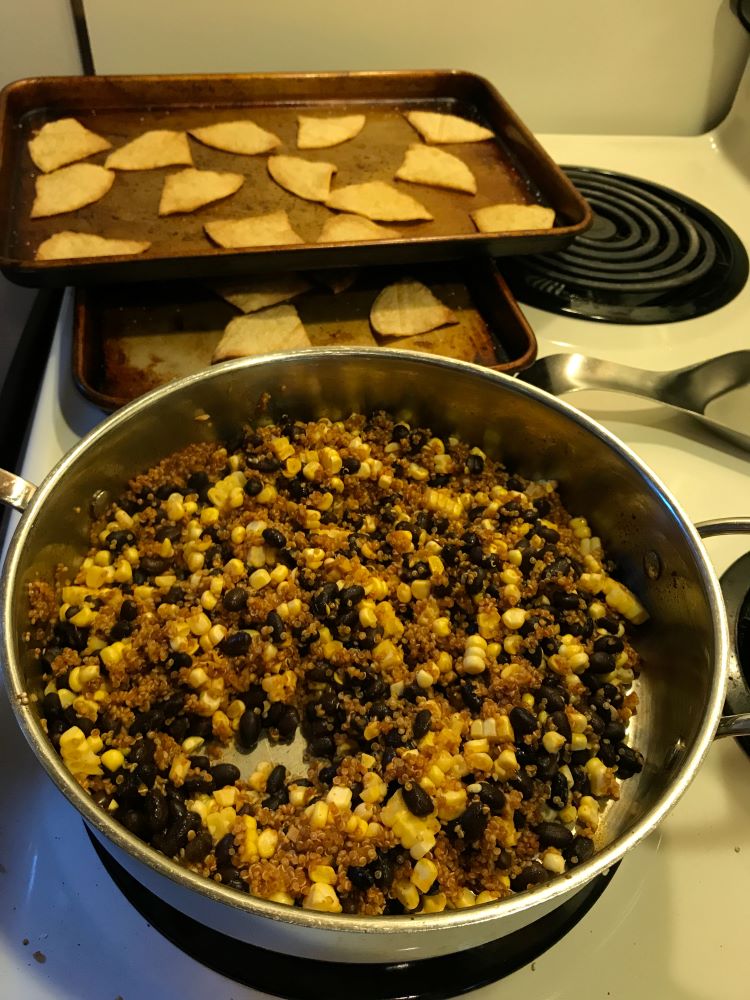 Quinoa and chips ready to eat!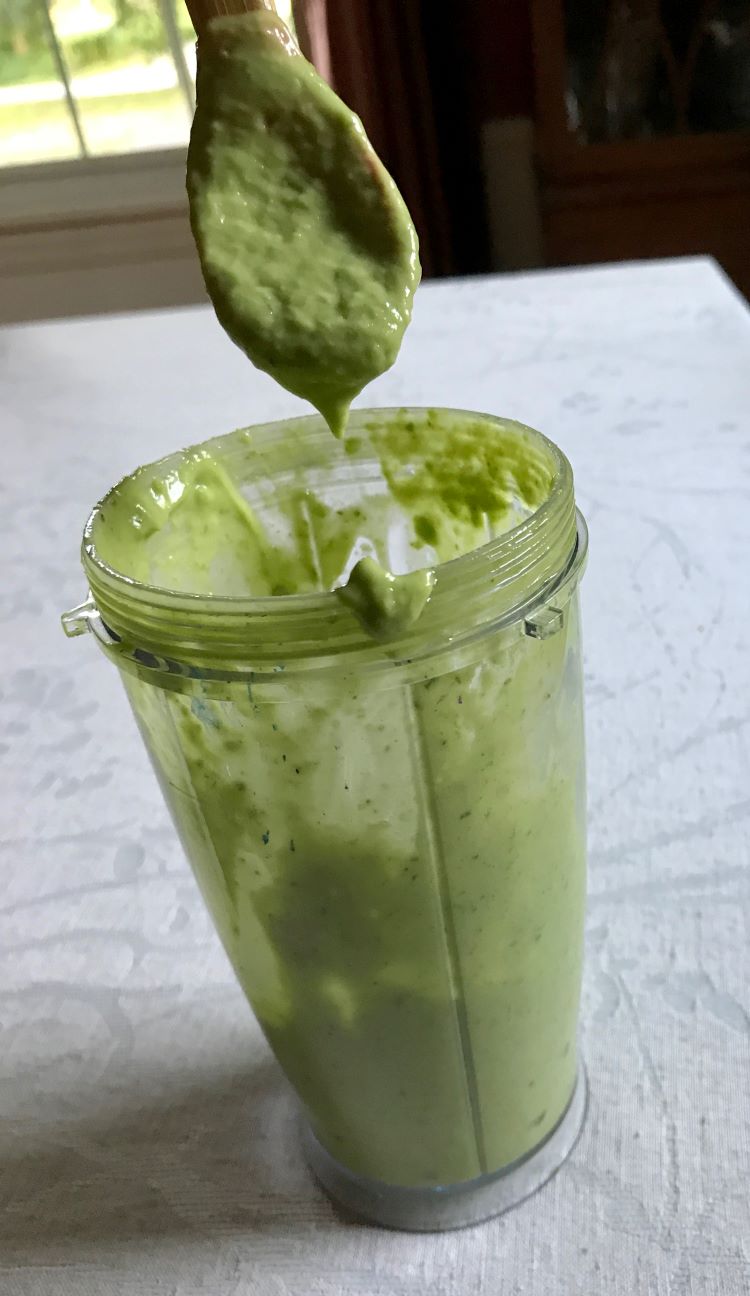 Dressing all mixed up.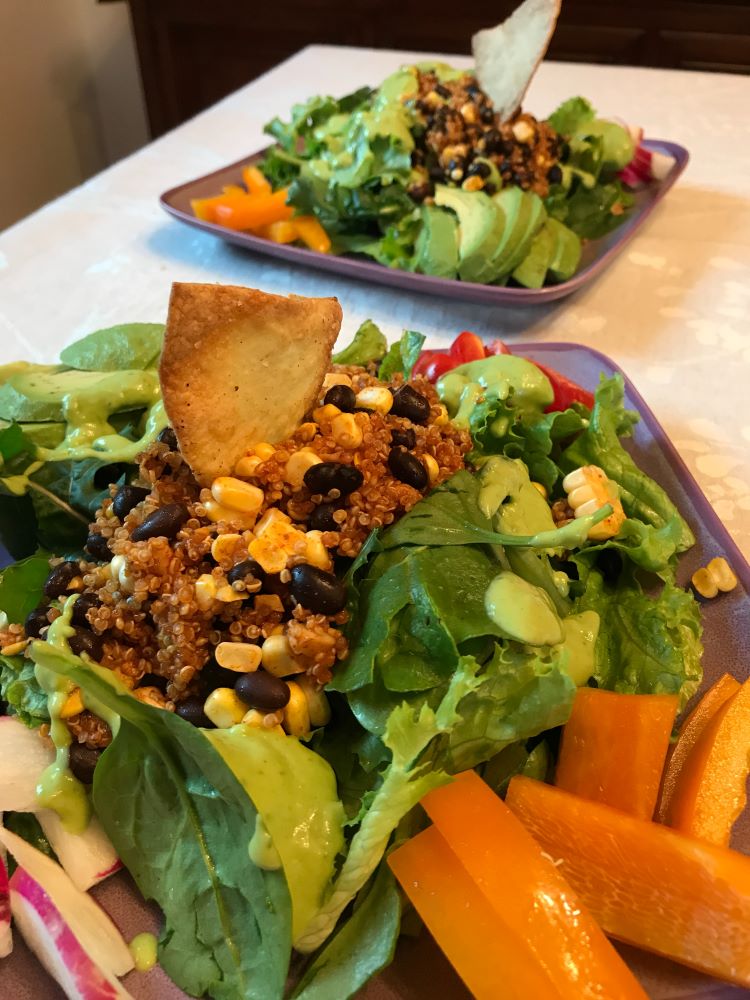 Dinner is served.