When was the last time you tried a food you have never eaten before? A couple of years ago I wrote a blog about trying food I thought I hated because my mother made me eat it, only to discover I actually liked the food! This happens with unfamiliar foods as well. I love having people over for dinner and serving them food that they have not experienced before and seeing their reaction. One of my favorite recipes to make for guests is Chili Rellenos (look for this recipe in a future post). It is rather complicated and I don't make it very often for that reason, but it never fails to amaze people. The typical response is they did not know vegetarian food could be so delicious. Many a staunch meat eater has had that dish and walked away full and happy. Another one is lasagna. I make my tempeh bolognese sauce and many people never realize it is not ground beef. Seitan is another surprise for people, when prepared correctly. I once used it as a topping for polenta pizza and I had a strict meat-and-potatoes man tell me how delicious the sausage was on top. I had to break it to him that I would never have used sausage and it was a lesson that sausage is often more about the spices than the actual meat. Unfortunately, I have heard horror stories from friends who were subjected to poorly prepared vegetarian dishes and they vowed to never try it again. My apologies from accomplished vegetarian cooks everywhere!
When we were growing up our parents often told us to try at least one bite of unfamiliar food to determine if we liked it or not. Somewhere along the line we decide as an adult we no longer have to take those trial bites. That could cause us to miss out on some delicious food! Once, friends of ours suggested a restaurant we had never been to that served asian hot pots. We sat at a table that had a place for the server to place a steaming hot pot of broth. Various foods were provided that we could dip in the broth to cook and enjoy. It was fun and delicious! My brother recently had us over for an amazing dinner of Indian food that he cooked. I always thought I didn't really care for this type of food, but the Lentil Dal has made me a convert! A couple of years ago we were in Florida and went to an Italian restaurant. The grilled calamari salad caught me eye as I had never had calamari grilled. I asked the server about it and he told me that they had to try each dish on the menu. He kept putting off trying this dish and when he finally did he was mad because he had wasted so much time that he could have been eating it! It was incredibly delicious and everyone at the table who tried it agreed. I tell my husband we need to go back to Florida just so I can get that meal again!
Of course I have my limits on what I will try. Obviously anything made with beef, fowl or pork I won't eat. I know pickled items (except for actual pickles) are never enjoyable to me. But I am a fairly adventurous eater within these parameters and love to try new foods. When I read a recipe, especially for a familiar food, I look for new or unusual ingredients that might take the dish in a new direction. This week's recipe is an example of this. I have mentioned before that the Humane Society has a newsletter (you can sign up here) that emails a Meatless Monday recipe each week. I received this one last week for chili, a fairly common meal for us because it is so easy to make vegetarian. My favorite has been Three Bean Bourbon Chili but my husband prefers white versions because he is not fan of cooked tomatoes. This particular recipe called for hominy, a food I have never eaten. I gave it a try and we agreed it was yummy! The hominy gave it a nice corn flavor that reminded me of tortillas. Have you tried any new foods and found new favorites? Tell us about them!
White Bean Hominy Chili
tweaked from a recipe from The PlantPure Nation Cookbook by Kim Campbell
Ingredients
2 15-ounce cans cannellini beans, rinsed, drained and divided
3-4 cups low-sodium vegetarian chicken stock (or vegetable stock), divided (use more if you prefer thinner chili)
1 cup Brussels sprouts, shredded
1 onion, diced
3 garlic cloves, minced
2 jalapeño peppers, seeded and minced
1 orange bell pepper, seeded and diced
2 tablespoons chopped fresh cilantro, plus more for topping
1 cup frozen corn
1 can white hominy, rinsed and drained
1/2 teaspoon ground cumin
1/2 teaspoon ground coriander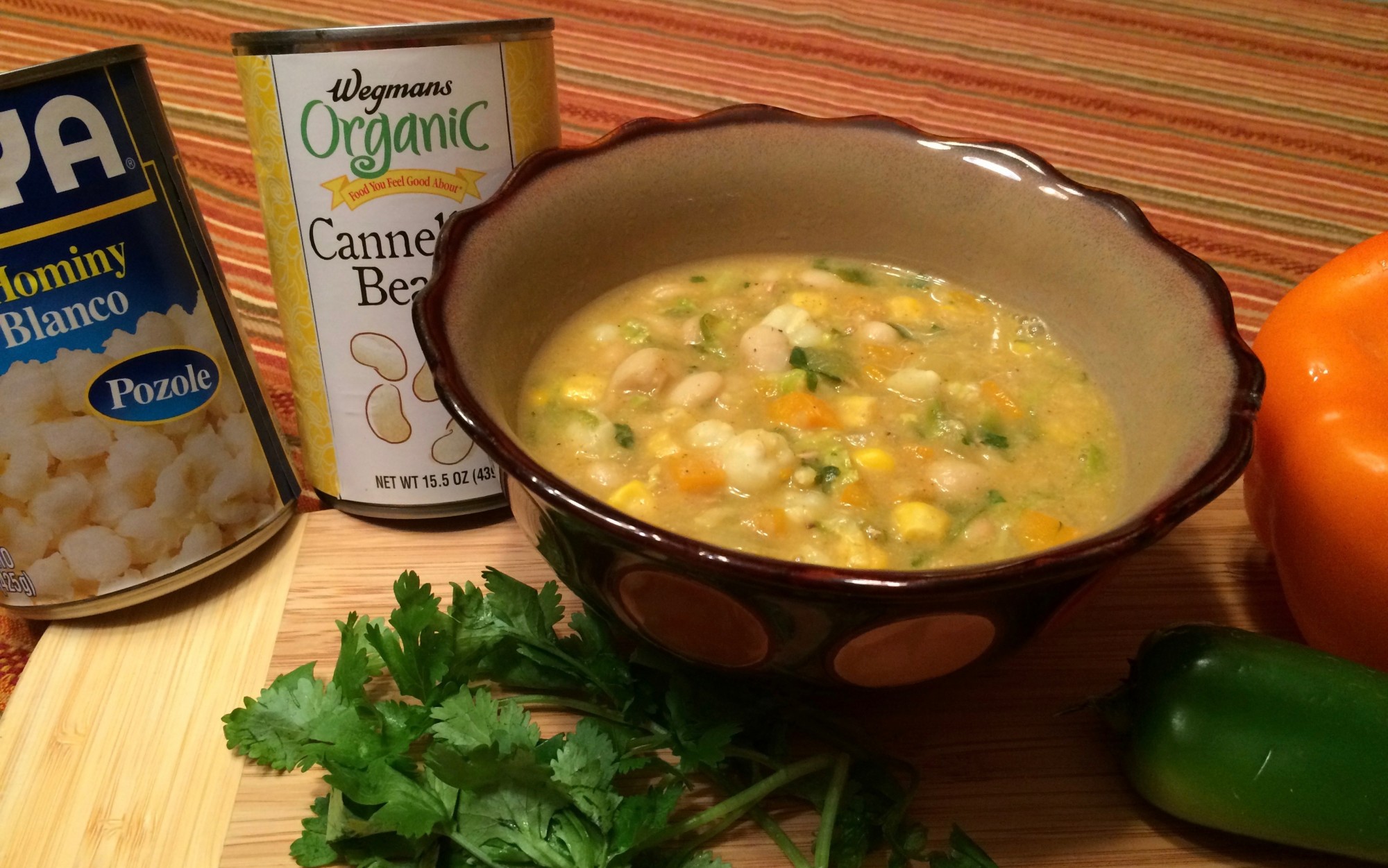 1 teaspoon chili powder
2 tablespoons nutritional yeast flakes
2 teaspoons lime juice
1 8-ounce can green chili peppers
1/4 teaspoon black pepper
Directions
1. Place half of the cannellini beans in a deep bowl with 1 cup of the vegetable stock and mash with potato masher until creamy and beans have all been broken up.

2. In a large soup pot over medium-high heat, sauté the sprouts, onion, garlic, jalapeño and bell pepper in 1/2 cup of the vegetable stock.

3. Add all the remaining ingredients to the pot of vegetables. Cook over medium heat for 20-30 minutes, or until vegetables are tender and broth is creamy.